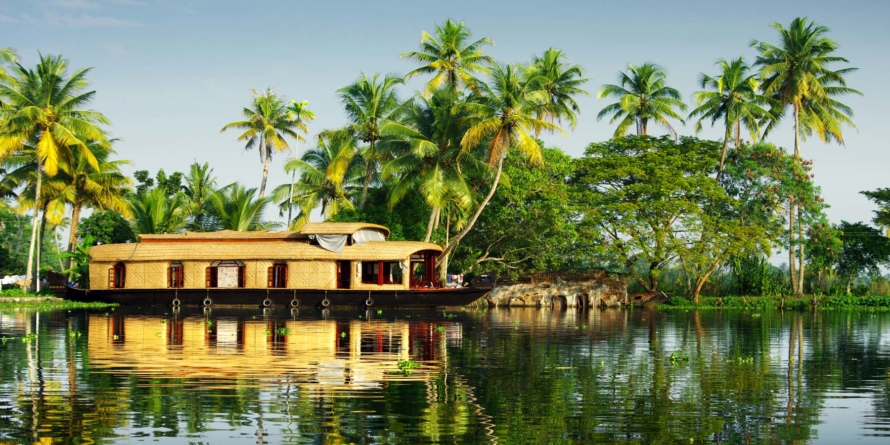 Kerala: Viridescent Paradise
Set at the southern tip of India, is God's own country, Kerala. The state has rightfully earned the title, owing to its beatific natural landscape. You can see vast expanses of lush paddy fields and golden beaches spangled with coconut trees. It is truly a traveler's best dream come true.
About Kerala
Kerala is situated along the Malabar Coast and the official language of the state is Malayam. The Kerala government has utilized the natural allure of the state to boost Kerala tourism. The capital of Kerala is Thiruvananthapuram, which is ranked amongst the 10 greenest cities in India and is an important IT hub.
Even though south Indian culture is very varied, Kerala is a wonderful place to begin exploring it. It was ruled by the Chera, Chola, and Pandya dynasties, which were all powerful and culturally rich. This left a lasting mark on the art, architecture, and culture of Kerala. This rich heritage has survived to this day in the form of lavish temples, sprawling palaces, and exquisite art.
Weather in Kerala
Kerala has a tropical climate and heaviest rains are received during June to August. The summers are humid and hot with temperatures ranging between 23 to 34 degree Celsius. The winters are pleasant and have an average temperature range of 30-22 degrees Celsius.
Best Time to Visit Kerala:
The only drawback of Kerala's tropical climate is that it can get very humid during the summer months of April and May. The best time to visit Kerala is from September to March, as the state does not receive harsh winters and weather remains pleasant throughout the day
If you want to visit Kerala for an authentic Ayurdeva experience, June until August is a perfect time as the climate is ideal for the maximum effectiveness of these treatments.
Best Places to Visit In Kerala
Owing to the varying landscapes and cultural richness possessed by Kerala, it caters to a large tourist population annually. Tourism in Kerala is a major industry that can offer a satisfactory experience no matter what you desire.
Kerala is blessed with beautiful beaches for you to relax and wind down at. Some of Kerala's best beaches can be found at:
1. Kovalam
A pretty, little beach town, Kovalam overlooks the majestic Arabian Sea and boasts of three beautiful beaches that you can relax at.
2. Varkala
A quintessential beach set atop a hill, Varkala lets you enjoy the music of the Arabian Sea in a very laid back environment.
If you wish to experience the coolness of the mountain breezes, you can visit the following hills stations in Kerala:
It is one of the most famous hills stations in South India and has rightfully earned that reputation. You can enjoy verdant mountains in a cool breeze while sipping on some Munnar special tea or coffee.
4. Thekkady
Thekkady is famous for the Periyar National Park where one can spot elephants in all their glory. It is also a declared tiger reserve and ideal for spotting varied flora and fauna.
To explore Kerala's rich cultural history, visit:
5. Kochi
You can visit the many Roman Catholic churches around the city to appreciate the serenity and architecture. There are also several Hindu temples where the distinct influence of Kochi's ruling dynasties can be observed. It is one of the prominent urban locations in Kerala.
6. Thiruvananthapuram
The capital city of Kerala is home to notable museums like the Napier museum and zoo. A popular tourist destination in the city is the Shri Padmanabha Swamy Temple, famous for the Dravidian architecture.
You cannot leave Kerala without lazying on a houseboat on the backwaters of:
7. Alleppey
Rent a houseboat and sail the serene backwaters as you enjoy sumptuous local food onboard. You can visit nearby towns and marketplaces during your ride.
Kerala sets the perfect ambiance for a romantic honeymoon getaway. Some recommended locations are:
8. Kumarakom
Kumarakom is famous for its romantic backwaters and the annual boat race festival that happens around Onam. Long canoe rides in the laid-back town can be a great way to spend time with your partner.
9. Palakkad
Another beautiful, relaxed town for a romantic getaway is Palakkad, where you can appreciate traditional culture and architecture with your partner.
How to Reach Kerala
By Air
Kerala has three international airports in Thiruvananthapuram, Kochi, and Calicut from where flights ply to all prominent international and Indian cities.
By Road
If you are traveling by road, you take NH 17, 47 and 49 to reach Kerala from any part of the country. The intrastate road network is also strong, with roads connecting major locations within the state.
By Train
Direct trains to Kerala's 200 railway stations can be availed from major cities like Delhi, Mumbai, Bangalore, and Kolkata.
A rich coastline and backwater system put Kerala in a strategic position to enable efficient travel through public ferries, speedboats, and houseboats.
Food In Kerala
Kerala has a very rich endemic cuisine, replete with fish, rice, and coconut. Begin your day with the staple breakfast of Puddu (steamed rice cake) and Kadala curry (chickpea curry cooked in coconut milk). Another delectable option is the Appam, which is a rice flour pancake and is eaten with stew made with spice-infused coconut milk.
The Malabar parotta is flatbread, which can be savored with a delectable Kerala style beef curry, flavored with strong spices.
The star of Kerala's cuisine is its seafood. You can choose between a chemmeen (prawn) curry, which is cooked in coconut milk with a spicy, sour gravy or fish moilee, which is a stew made with marinated fish in a tangy coconut gravy. Better still, try both!
For desserts, do not miss to try palada payasam, which is a delicious rice pudding made in milk and ghee and is indispensable at special occasions.
These staple dishes can be found all over the state. It is for you to choose whether to try them at a local eatery or a fancy restaurant.
Shopping Spots in Kerala
As a tourist, you will be delighted by the variety of handicrafts that Kerala has to offer. Owing to the abundance of wood, coconut, coir, and jute, you will find a wide range of exquisitely made handicrafts to take home as decorative items.
A specialty of Kerala is the kasava cloth, which is white, bordered with green and gold. It is part of the traditional attire and is worn by men as Mundus and women as sarees or skirts and tops. The cloth keeps you cool during summer and is a must-buy when you visit Kerala.
The array of food that Kerala produces is astonishing and offers several souvenir options. You can buy high-quality spices, cashews, tea, coffee and banana chips, which will be a delectable way to remind you of your amazing travel.
The best places in Kerala to get these items are Kochi and Thiruvananthapuram.
Important Contacts in Kerala
Hospitals
| | | |
| --- | --- | --- |
| City | Name | Number |
| Alleppey | Huda Trust Hospital | 479-2412005, 2404466. |
| Thiruvananthapuram | Kerala Institute of Medical Sciences | 0471 304 1000 |
| Munnar | Tata General Hospital | +91 4865 230270 |
| Kovalam | Upasana Hospital | 0474- 2762887/ 2762889 |
Fire Brigade -101
Kerala Police
0471-3243000 , 0471-3244000 , 0471-3245000
Highway Help- 9846 100 100
Railway enquiry: 131