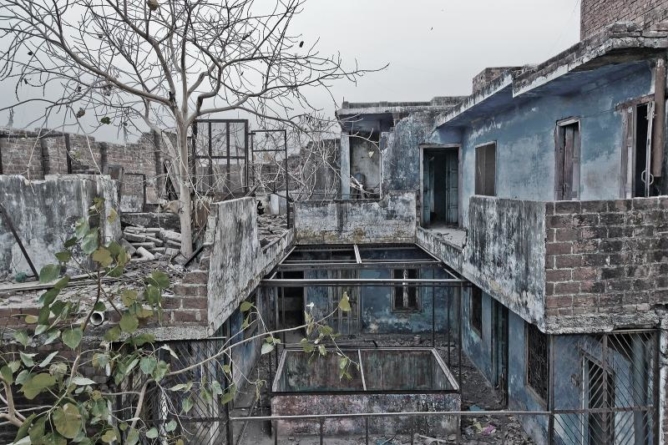 5 most haunted places in Delhi
Living in a city like New Delhi doesn't let you stay alone for a long time but nature has its own verses to prove its existence. Hidden deep stories that are sometimes left untold become voices of their own in some paranormal ways. Sometimes they want to say something, sometimes they simply don't want anyone to be around them. Delhi is also a fast pacing city in the world of technology but still, in this time there are some places that don't like people to disturb them. We are here discussing the 5 most haunted places in Delhi where the nights are darker than any other part of Delhi.
Delhi Cantonment
The story behind Delhi cantonment horror mystery road is a grief-stricken story. Before I tell you about the reason, I would tell you more about the actual scenario of the road. The most common kind of a ghost that everyone seems to talk about is a part of this mystery.
People have witnessed some kind of unusual paranormal activity in this area. This area is supposed to be haunted by a lady spirit that seems to wear a white saree. They also say that the alleged spirit is found standing on the roadside asking drivers for a lift and when they deny doing so, in a moment she is found running along with the car at the very same speed as of the car.
There are various rumors about the story behind the women present in white saree. It is said that back then when the girl was hitch-hiking, she was raped and murdered, in that place. After that, she came back in a spirit form as she didn't get justice. Since then she keeps asking for lifts from the drivers and if someone denies she starts chasing the car at the same speed as the car. Since this entire time, the place is considered as one of the most haunted places in Delhi.
House no: W-3
A house in a posh area of Delhi, Greater Kailash 1, House no. W-3 has witnessed a hideous murder of an old age couple. Their bodies were found after a week in the water tank. The rugged walls of this house have seen a dark time of 28 years. There have been many attempts made by the curious young and old bloods to break into the house in order to find the reality behind the screen that's been shown to the audience.
People living near the place and many people who have crossed the place have also claimed that this place has some negative vibes that make them feel a presence of something.
According to the latest reports the place has now been occupied by a family of Guptas. Well, this is also a point to highlight that the Guptas don't live here, but they do come for a few days in a month. This story ultimately makes this house a haunted house and one of the most haunted places in Delhi. 
Lothian cemetery
The name in itself has cemetery in it, so it becomes kind of obvious for people to get a scary feel. Considered as one of the most haunted places in Delhi, it is famous for being haunted by a beheaded spirit.
The place is located near ISBT Bus Terminal of Old Delhi. Stories of spirits have been the only stories of this place for a long time. It is supposed to be existing for 200 years when Britishers ruled India. The haunting revolves around the story of a British soldier who roams around the place on a full moon night. It is believed that people have witnessed a beheaded spirit and also there have been cases of people missing from the place.
History of this place also says that it was Muslims who used to bury their members here and Britishers found the place really big and fine, so they used it for themselves. The cemetery was named after the British man who got this place ready for their British soldiers.
A very famous story related to this beheaded ghost reads as "Sir Nicolas (The ghost) fell in love with an Indian woman who was already married. Unfortunately, customs didn't allow him to have his love of life, he shot himself in the head and since then it is believed that he comes on every full moon night in the search of his love".
 This beautiful tragedy has evolved this place into one of the most haunted places in Delhi.
Dwarka sector 9
The metro station of Dwarka sector 9 on blue line associates itself with some kind of paranormal activities and the belief is real strong. When you pass this area of sector 9, your eyebrows will surely rise up a bit looking at the weird placement of the peepal tree in the middle of the road. Along the Peepal tree, there is a Neem tree also and they both are together cemented in a circular area. There are several pictures and sculptures that have been placed underneath the trees. Mostly the employees from the industrial areas have witnessed such paranormal activities around this peepal tree.
The place has been a witness to many accidents in the daylight and night too. People claim that an old lady seems to chase their car at the same speed as the car. They have also been saying that people have experienced negative vibes and sometimes someone slaps them on the face. Many people have reported and made vlogs in the night time in that area and most of them have claimed that they have always felt some negative energy around.
The history does not have much-related stories to the event but it is said that some kind of an accident took place there before and the dead has since remained there.
Try to explore more of it as the place definitely seems interesting and curious, but we would highly recommend exploring such a place in the daylight with proper safety measures.
Sanjay Van
 What's that enthralling thing about a haunted place that draws our attention towards it? The keenness to know the unknown or the thrill and chill to find out if it really is true what they say. I am sure that would make it an unforgettable experience and a story to recite your entire life. Now, we will tell you about a haunted place in the capital, the Sanjay Van.
This place in Delhi is decorated with lush greenery all around and the continue chirping of birds makes it a heaven of the nature lovers as this forest is one of the most thickly wooded areas of the city and home to several species of birds such as Asian Koel, white-breasted kingfisher, purple sunbird and more. A walk through it during winters is perfect to explore its thorny vegetation and rest under the shade of its trees. But the night has an altogether story to tell. The eerie, spooky beings that it is known for a venture in the darkness roaming without abandon in the thick of the forest.
Spread over 10 sq km, the forest has many graves and majaars of Sufi saints and also broken ramparts of Qila Rai Pithora. Several tales of people feeling the presence of something unknown, hearing cries and laughter when no one is around and spotting a lady in a white sari who then vanishes into thin air aren't uncommon. Though many may not venture into a forest at night, these tales have further cordoned off others. But if you are willing to brave the night, we wish you luck.