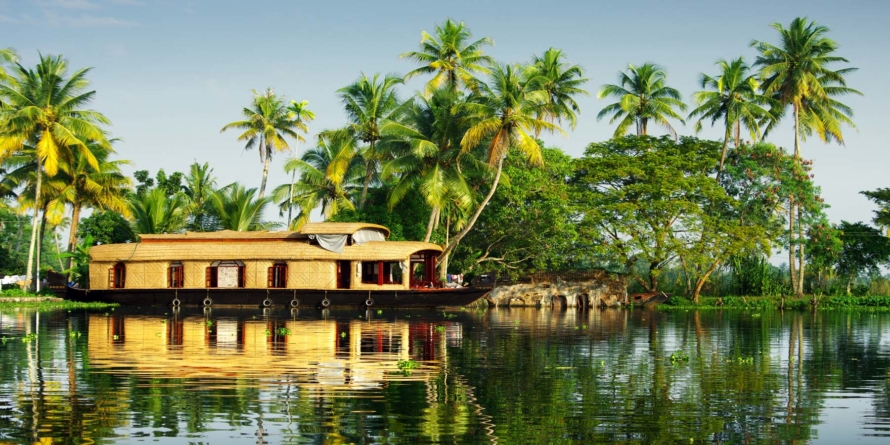 Kerala – God's Own Country
Kerala: A Saga of Experiences
God's own country Kerala a tropical paradise where one can explore nature's beauty at its best. A beautiful city in southern India covered with 600 km of glorious Arabian Sea. Its golden beaches, spice, and tea-covered hills waving palm trees and expanded calm backwaters add a glory to the state. The most literate state in India allows a large number of visitors from all over the world.
Situated along the Malabar Coast Kerala borders the state of Tamil Nadu and Karnataka. A well-known state famous for its backwaters, golden sand beaches, luxurious houseboats, Ayurveda treatments and a land of diverse religions and dance forms. Along with the endless natural beautiful destinations, it's a home to wild animals and fascinating birds.
The thirteen largest Indian state by population, divided into 14 districts with Thiruvananthapuram as the capital city. The official language of the state is Malayalam.
Considered as safest regions of India and also named as one of the "Ten Paradises of the world" and "50 places of lifetime" by National Geographic travel magazine.
Experience Destinations
Thiruvananthapuram
The capital city of Kerala surrounded with the splendid Kovalam beach and Varkala beach. One can also experience backwaters in Poovar. The city includes one of the richest temples in the world Padmanabhaswamy Temple. Neyyar wildlife sanctuary, Napier Museum, and Kappil-Eddava are other tourist's destinations.
Alappuzha
This place is one of the most alluring places with luxurious houseboats to spend some peaceful moments and food to enhance your taste buds. Also called as "Venice of East" comprises of Beaches, Lakes, lagoons, backwaters and religious sites. Some of them are Sri Subramanya Swami Temple, Mannarasala Sri Nagaraja Temple, St. Andrew's Basilica Arthunkal, Mararikulam Beach and Marari beach.
Kochi
Kochi is also known as "Queen of Arabian Sea" is one of the considerable destinations for shopping. Fort Kochi and Cherai Beach are the major tourist attractions. A cosmopolitan city was in born in storms, raise in rivalry, and was well-established for European empires as a ground of battle.
Munnar
A hill station surrounded by tea plantation is one of the beautiful destinations of Kerala. Eravikulam National Park, Anamudi Peak, Mattupetty Dam, Chinnakanal and Anayarangal waterfalls and a wide range of tea gardens enhance the beauty of Munnar.
Thekkady
This place is famous for its wilderness. Periyar National Park is the major tourist attraction of Thekkady. Bamboo Rafting can be experienced near Mullaiperiyar Dam. Thekkady is a tourist paradise with ample treasures of plant and animal life. This place is surely, heaven on earth for nature lovers and wildlife enthusiasts.
Sabarimala mountain temple
Millions of devotees come here every year and this temple is devoted to Lord Ayappan. It is located inside dense green forests at mountain ranges on Western Ghat above 1535 ft sea level. Sabarimala allows devotees unbiased of any religion except women from the age of 12 to 50 years old.
Kozhikode
The land where Vasco da Gama landed for the first time in India is famous for its beaches and waterfalls. Kozhikode was famous as the romantic place with the beauty of old streets and fragrance of mouth-watering dishes in air. It has many educational institutes such as India Institute of Management, Calicut Medical College, National Institute Technology, etc.
Cuisine Of Kerala
Kerala is also known as Land of Spices, offers both vegetarian and non-vegetarian dishes. Coconut and rice are the main used ingredients in every dish. Mouthwatering flavors to classic recipes one should start a day with the staple breakfast of Puddu (steamed rice cake) and Kadala curry (chickpea curry cooked in coconut milk).  Another common food includes, Appam made of rice powder and can be served with vegetarian gravy. Banana chips are the most common snacks found in Kerala. Seafood is an integral part of Kerala cuisine.
Besides hot and spicy seafood a meal is not complete without the deserts. Do not miss to taste the delicious Palada Payasam.
Shopping: What To Buy
Kerala is famous for its ample production of spices. Rich in Aroma and fine quality spices can be available at Munnar, Thekkady, and Periyar. The Nilgiri Tea and coffee can be purchased through local stalls. Crisp in taste banana chips can be available in abundance anywhere in Kerala.
Pure handloom cotton cloth with typical zari border known as Kasavu Mundu is traditional clothing in Kerala.
Handicrafts, aroma oils and temple jewelry are famous things to buy.
Climate Of Kerala
Kerala has the tropical climatic conditions with heavy rainfall over 120-140 days per year. The heaviest rainfall occurs during the period of June to August. The temperature is hot and humid in summers and usually goes above 35 degrees. Winters are mild.
But if we are talking about Kerala one should always carry an umbrella because no wonder you get drenched in the sudden shower.
Best time to visit Kerala
The ideal time to visit Kerala is September to March. Monsoons are the best to explore the beauty of Kerala as the weather during this period cold and pleasant.
How to reach 
By Air
This state is connected with three major international airports; Thiruvananthapuram, Kochi, and Calicut.
By Train
Kerala in interconnected by 200 railway stations. Direct trains can be available from Delhi, Kolkata, Chennai, Mumbai, Bangalore and other major cities.
By Road
Kerala is connected to two major states through road i.e. Karnataka and Tamil Nadu and with the national highways 17, 47 and 49.
By Sea
A rich coastline and backwater system put Kerala in a strategic position to enable efficient travel through public ferries, speedboats, and houseboats.
Map of Kerala