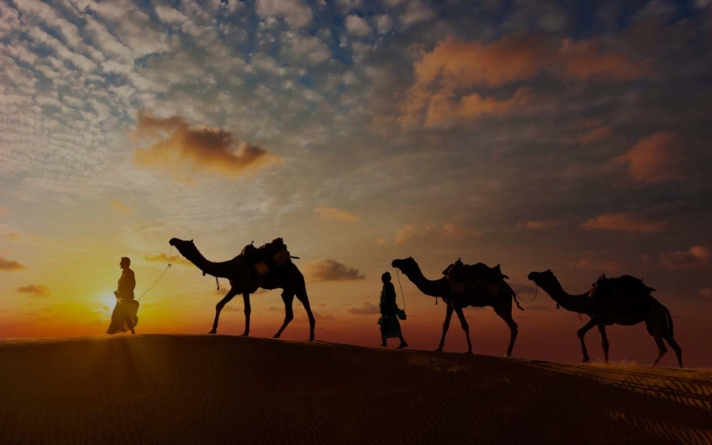 Rajasthan – Land of Beautiful Forts and Havelis
"Land Of Kings" and "Land Of Kingdoms"
Famous for its magnificent Forts, fascinating monuments, ancient temples, and carved  Havelis Rajasthan is a home for courageous Rajputs. Rajasthan Is located in western part of India. This state shares the border with Pakistan provinces of Punjab along with 5 states of Indian.  The merger of Mughal and Rajputana style of architectural structure monuments of Rajasthan attracts huge tourists to Rajasthan. One can encounter sanctuaries and wildlife park in the region.
One of the densely populated states of India with rural houses made with mud walls and painted front doors with the graphics. Rich in tradition the famous song is "Khurja" and the typical dance form is "Ghomar".
Hindi, Rajasthani, English but mostly Rajasthani is practiced by a huge population of the state. The Rajasthani language can also be spoken in other varieties like Mewari, Bagri, Shekhawati, Ahirwati, Marwari, Dhundhari, Hadoti, Wagdi, Mewati etc and is spoken in different part of the state.
There are many historic forts of Rajputs some of which are designated as World Heritage site by Unesco in 2013.
The capital of Rajasthan – Jaipur
Jaipur is the capital of Rajasthan. The largest city of this state is  Jaipur and it is also known as the 'Pink City' and the 'Paris of India'. Jaipur is also a favorite destination for both domestic and international tourists surrounded by Amer Fort, Nahargarh Fort, city palace,  Jantar Mantar, and Hawa Mahal. Bapu Bazar and Johri bazar are the main attractions for shopping in Jaipur.
Places to explore 
Rajasthan has many exotic places to visit whether it is a pilgrimage place, monuments, forts, museums, wildlife, adventures, hill station,
Jodhpur is a popular tourist attraction of Rajasthan state. Most renowned destinations include  Mehrangarh Fort, Umaid Bhawan Palace, Ghanta Ghar, and Jaswant Thada. Jodhpuri mojari is the main attraction in markets for shopping.
Udaipur the city of lakes is famous for Lake Pichola which is situated in the middle of town. the city is surrounded by  Udaipur city palace, Jagdish Mandir, Bagore ki Haveli, and Fateh Sagar Lake. Founded by Maharaja Udai Singh the city comprises of many temples and forts around.
Jaisalmer the land of golden sands, people came from all over the world to experience the life in a desert. One can explore camel safari, jeep safari, camping in the desert along with the pleasant traditional dance and music.
jaisalmer, Bikaner, Barmer, Jodhpur, and Pushkar are the places that sway the essence of colors and festivals throughout the summer.
Ajmer is a religious place famous for the Ajmer Dargah Sharif is a Sufi shrine of a Sufi saint. Thousands of devotees come here every year.  Another main attraction of Ajmer is Ana Sagar Lake.'
The only hill station in the desert is in the range of Aravali hills is Mount Abu. The summer capital of Rajasthan has the cool and soothing climate. one can explore a number of Jain temples here. One of them  is Dilwara Temple.
Rajasthan is vast and vivid, comprises of most beautiful monuments and forts. Some of are Haldi Ghati, Kumbalgarh Fort, Ranakpur Jain temple, Ranthambore wildlife sanctuary, Sariska tiger reserve, and many more to explore.
Geography
The larger part of Rajasthan is Desert. the "Thar Desert", north-western Rajasthan and the termination of the Ghaggar River near the archaeological ruins at Kalibanga of the Indus Valley Civilization.
Climate of Rajasthan
Broadly speaking, Rajasthan has a tropical desert climate. It is extremely cold from October to February while the scorching sun tortures the land from March to September. In summer the maximum temperature of the state varies from 40 degree Celsius to 49 degree Celsius while in winter temperature goes down to 0-degree Celsius. Rajasthan experiences varied rainfall in different part of the state.
Facts about Rajasthan
Capital

 Jaipur

Major Towns

Districts

 Jaisalmer, Bikaner, Sri Ganganagar, Hanumangarh, Churu, Jhunjhunu, Sikar, Nagaur, Jodhpur, Barmer, Pali, Ajmer, Jaipur, Alwar, Bharatpur, Dausa,  Karauli, Tonk, Dholpur, Bhilwara, Bundi, Kota, Baran, Jhalawar, Chittorgarh, udaipur, Rajsamand, Banswara, Dungarpur, Jalore, Sirohi, Sawai Madhopur.

Famous For

Fairs & Festivals, Forts & Palaces, Wildlife, Heritage Hotels, and Havelis.

language

Hindi, Rajasthani, English

Weather

Tropical

Currency

Indian Rupee

Summer

March – June

Winter

October –February

Monsoon

July – September

Peak Season

October- March

Districts

33

Literacy Rate

68%

Airports

3( Jaipur International Airport, Udaipur Airport, Jodhpur Airport)

Hill Stations

Mount Abu

Cuisines

Dal Baati Churma, Gatte Ki Sabji, Laal Maas, Kesar Murg

Agriculture

Wheat, maize, groundnut, sesame, barley, cotton

Local Transport

Auto Rickshaw, Buses, Railways

Shopping

Painting, Jewellery, Floor coverings, Textiles

Wildlife

Ranthambore National Park, Sariska Tiger Reserve, Desert National Park, Sita Mata Sanctuary,

Mount Abu Sanctuary

.
Transport 
Rajasthan has a very good network of all the modes of transport. Airways, Roadways, and Railways to have a good network within cities of Rajasthan and rest of the cities of India also.
Note: While traveling to Rajasthan, one must put special concentration on its weather. The summer season here starts in the month of March but the temperature rises from April and continues till the month of June. In fact, the temperature in the state varies from its cities to cities. Such as the temperature in Mount Abu and Udaipur is much lower than compares to Jaisalmer, Phalodi, Barmer, and Bikaner. The monsoon season generally starts here from June and remains till mid-September. Although, Rajasthan has little rainfall few places receives heavy rainfall like in Jaisalmer and Bikaner. The tourist can enjoy the winter season in Rajasthan during the month of January in which temperature sometimes remains at 2 degree Celsius during the night. Therefore, the ideal time to explore the beauty of Rajasthan is between October and March.
Map of Rajasthan 
"Inditrip welcome all your valuable suggestion and comment here, also if you wish to share any topic related to Indian tourism, Join our team and we will publish your content with your name".
                                                                         Thank you..