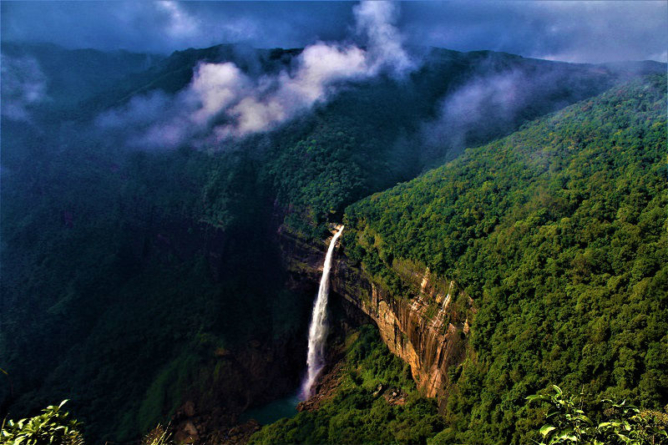 Top 4 hill stations in Meghalaya
Meghalaya
Home of the clouds, Meghalaya a paradise on Earth and one of the most beautiful states located in the northeast of India. Beautiful land that brings its tourists with plenty of rain, peaceful sunlight and throbbing sunsets, virgin forests, crystal clear rivers and plenty of waterfalls. Meghalaya the land of rich ancient culture and its population rich with happy people. Meghalaya claimed to be the safest place on this planet because it receives maximum rainfall throughout the year. All these nature's gifts can be searched at these top 4 hill stations of Meghalaya.
The top 4 hill stations of Meghalaya
Shillong, capital of Meghalaya, a beautiful city which also the headquarters of the hills of East Khasi district. Take a gentle walk or gradually drive a vehicle and lots of views of the valley close to the Khasi hills and scenes of nature's lap mountains which attract a large number of tourists. Shillong's shower and cold air bring with an unmatched satisfying experience. The more hills discovered, the living methods of nature lowered. Shillong is at an elevation of 1,966 meters and also known as 'Scotland of the East'.
Cherrapunji
Sohra a historical name, while the world knows it as Cherrapunji. "After Maavasiranam, Cherrapunji the second most rainy place on Earth, and Cherrapunji reaches 12 meters of rain every year, even after the rainy space on Earth. Changsha changed from Mavsinam (about 16 km from Cherapunji) to Cherrapunji. Cherrapunji still rules as the most attractive tourist destination. Cherrapunji its own unique magnificence, valleys, and waterfalls, rocks and caves, evergreen haze scenes Due to a group of these attract many visitors due to heavy rains. Located in north-eastern India, Cherrapunji has situated about 60 km from Shillong in the eastern Khasi region of Meghalaya. Very famous in Dogriet Umchiang Double Decker Living Route Bridge in Cherapunji There is a travel point and many other root bridges also found in Cherrapunji (Sohar) and Mawlynong.
Jowai
Located in Jaintia Hills, Jowai acclaimed for its amazing beautiful scenes with the ideal mix of heritage and culture. Situated in the Jaintia Hills district, Jowai popular for its picturesque surroundings and amazing scenery like every other city in the state. A rich blend of heritage and culture that reflects the way of life there. Lakes the primary attraction of Jowai. Thadlassen Lake and Lalong Park the most famous places of the famous visitor, while Sintu Kesar a famous place to visit on the banks of the Myandu River.
Mawlynnong
A village settled in the eastern Khasi Hills of Meghalaya popularly known as 'God's Garden', it won the Asia's cleanest village award in 2003. Acknowledged for its happiness and situated about 90 km from Shillong and a network-based eco-tourism activity. The mass group has tried to keep the title of an ideal village. This city offers pleasant common splendor, there is a trek for the living Root Bridge in Rivi. This village also presents a scene of a rock that is balanced by nature, an interesting common miracle on another stone. "The heart of the neighbors, the pride of the owners is perfect for Mavlinnong, because it has won the title of being one of Asia's most clean villages, one reality is that every Mavelinong village is proud and jealous to the various villagers The city is very beautiful, especially in the rainy season, when there is a rich greenery surrounded with waterfalls, ready to make small streams with waterfalls And all the trees enhance the elegance of orchids city bloom.
How to reach Meghalaya
By Road
The roads leading to Meghalaya smooth and easily accessible. Road travel in Meghalaya should be avoided as the roads become wet and traffic becomes slow.
By Rail
Guwahati the nearest railway station of Meghalaya in Assam, which is 180 km away in Assam. You can rent a cab or bus to reach Meghalaya from Guwahati.
By Air
The nearest airport to Meghalaya is Guwahati, which is 159 km away. The airport connected to major cities like Mumbai, Kolkata, Chennai, and Delhi. Also linked to Bangkok and Tura cities. Hiring cab the best option for reaching Meghalaya from there.
Map of Meghalaya