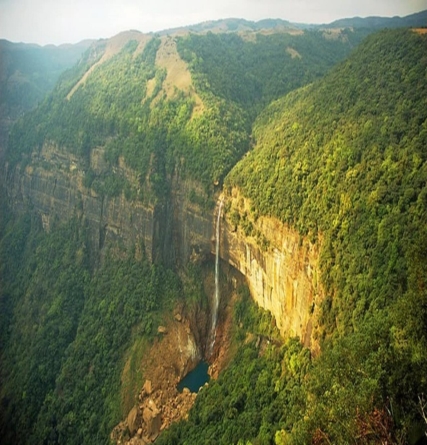 Top 4 hill stations in Meghalaya
Meghalaya
The abode of clouds, Meghalaya is a heaven on earth and one of the most beautiful states situated in the Northeast of India. A beautiful land that serves its tourists with plenty of rainfall, peaceful sunrises and heart throbbing sunsets, virgin forests, crystal clear rivers and bountiful waterfalls. Meghalaya is a land of rich ancient culture and the population there is rich with happy people.  Meghalaya is rightfully claimed to be the wettest place on this planet as it receives maximum amount of rainfall throughout the year. All these nature's offerings are best to be explored on these top 4 hill stations in Meghalaya.
How to reach Meghalaya
By road – The roads going to Meghalaya are smooth and easily accessible. One must avoid a road trip to Meghalaya in monsoon as the roads get wet and the traffic slows down.
By train – Guwahati in Assam is the nearest railway station to Meghalaya, which is at a distance of 180 km. You can hire cab or buses to reach Meghalaya from Guwahati.
By air – Nearest Airport to Meghalaya is Guwahati that lies 159 km away. The airport is connected with the major cities like Mumbai, Kolkata, Chennai and Delhi. It is also connected with cities of Bangkok and Tura. Hiring cabs is the best option to reach Meghalaya from there.
Capital of Meghalaya, Shillong is a beautiful city which is also a headquarter of East Khasi district hills.
Taking a gentle walk or riding gradually a vehicle out and about close by Khasi hills gives plenty views of the valley and the landscapes of the hills laying in the lap of Nature which attracts a major number of tourists.
Showering sprinkles and cooling breeze of Shillong bring along an unmatched satisfactory feel.
The more the hills are explored, the more lively methods of Nature get uncovered.
 Shillong is at 1,966 m elevation and is also known as 'Scotland of East'.
Cherrapunji
Sohra is the local name, while the world knows it with the name of Cherrapunji."
After Mawsynram, Cheerapunji is the second rainiest place on earth.
Cherrapunji gets near 12 m of rain each year.
Even after the title of the most rainiest place on earth has changed from Cherrapunji to Mawsynram (around 16km from Cherrapunji), Cherrapunjee still rules as the most attractive tourist place.
Cherrapunji pulls a number of visitors due to its bounteous magnificence, bundle of valleys and waterfalls, ravines and caves, evergreen hazy scenes and overwhelming rainfalls.
Concealed in North East India, Cherrapunjee is situated around 60 km from Shillong in the East Khasi region of Meghalaya.
The very famous Umshiang Double decker Living Root bridge at Nongriat is a must visit place in Cheerapunji and numerous other root bridges are also found in Cherrapunji (Sohra) and Mawlynnong.
Jowai
Situated in the Jaintia Hills, Jowai is acclaimed for its amazing scenic views with the ideal mixture of legacy and culture.
Situated in the Jaintia Hills district, Jowai is popular for its picturesque setting and amazing views like every other city of the state.
It is a rich blend of heritage and culture which reflects in the way of life there.
Lakes are the primary fascination of Jowai.
The Thadlaskein Lake and Lalong Park are the celebrated visitor's mostly visited spots while Syntu Ksiar on the shores of Myntdu river is also a famous place to visit.
Mawlynnong
A Village situated in the East Khasi Hills of Meghalaya is popularly known as 'God's own garden'
It has won the award of being the cleanest village in Asia in 2003.
It is known for its tidiness and is situated around 90 kms from Shillong and is a network based eco-tourism activity.
The people group has endeavored to keep up the title of perfect village. The town offers pleasant normal magnificence, a trek to the living root bridge at Riwai.
This village also offers a sight of a rock that is balanced by nature, an interesting common marvel of a stone balancing on another stone.
The saying "Neighbors envy, owners pride' is perfect for Mawlynnong as it has earned the title of being one of the cleanest villages in Asia, a reality that each Mawlynnong villager is proud of and different villagers are jealous of.
The town is very pretty, particularly in the rainy season when there is rich greenery all around, with waterfalls ready to make little streams and plenty of blossoming orchids dangling from the trees add to the magnificence of the town.
Map of Meghalaya