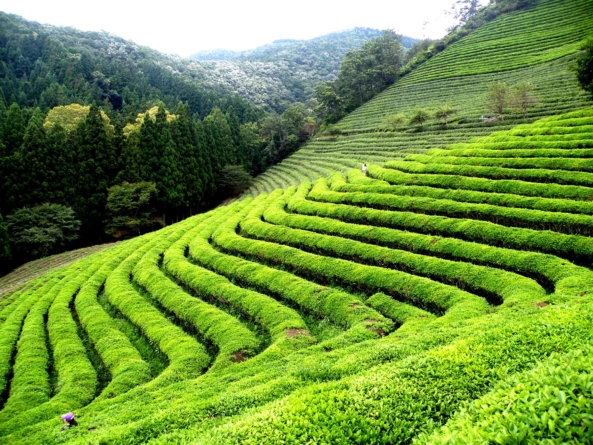 Darjeeling The land of the thunderbolt
The word Darjeeling has a very interesting connotation as per Tibetan lingo. It can be split into two Tibetan words 'Dorje' and 'Ling' which translate into 'thunderbolt' and 'place'. Hence,  Darjeeling literally stands for 'the land of the thunderbolt'.
This vacation season, ditch foreign plans and spend your lazy days immersed in the many wondrous sights, tastes and smells of the mesmerizing city of Darjeeling in the Indian state of West Bengal.
Darjeeling is the perfect travel destination in India, situated among the peaks of the lesser Himalayas at an elevation of 6,700 feet, Darjeeling has gained worldwide popularity for its delicious and fragrant Darjeeling Tea. Notably, this prime hill station of India is surrounded by the snow-capped mountains of Kanchenjunga and sees a regular inrush of tourists all year round.
Overview 
The beauty of Darjeeling is truly unparalleled with its vast, "heavenly tea gardens spread across the slopes of the hills and the picture perfect orchids, pines and rhododendrons" that heighten its beauty to a thousandfold.
There are also plenty of man-made wonders to look at like British-era architecture and peaceful Buddhist monasteries. However, Darjeeling Tourism is the most searched for and most talked about Indian holiday itinerary. You can also opt for the Darjeeling-Gangtok vacation since Gangtok is only 108 kilometers away from Darjeeling and is also abundant in sightseeing places. Several travel companies offer reasonable and amazing Darjeeling tour packages to choose from. Go ahead and find the one that best suits your budget.
Places to Explore
Himalayan Mountaineering Institute
The Himalayan Mountaineering Institute is more of a destination and a pilgrimage for mountain climbing aspirants than an Institution. It is a residential school cum Swiss style Sherpa accommodation and also a well-curated mountaineering museum. All in all, this is one of the best rated and must visit tourist places in Darjeeling.
Tiger Hill
Another one among must-visit Darjeeling tourist places, The Tiger Hill of Darjeeling seems to personify the beauty of the rising sun and the majestic Kanchenjunga Mountain by a thousand folds every morning. It also offers stunning views of meadows and of the Senchal Lake below.
Tea Garden
Darjeeling Tea is immensely popular worldwide. Darjeeling is now leveraging its tea sales to promote what is known as Tea Tourism. Tea Tourism involves a lovely stay at a British Tea Planter bungalow from the colonial era overlooking the sprawling tea estates. You will also be going on a tour around the tea gardens and indulging yourself in some hot, strong, piping, aromatic and splendid Darjeeling Tea.
Kalimpong
A subdivision of Darjeeling district, Kalimpong is a little town and hill station in itself. Kalimpong is a cluster of many different cultures and traditions. The "Deo Hills" is a major attraction here together with a large number of monasteries, temples, and parks.
Batasia Loop
A loop or a spiral of a small scale railway track where the Toy Train transmits a sudden sharp descent from Ghoom. 5 kilometer from the Darjeeling city. This location gives a great 360-degree view of Darjeeling's landscape and Perfect view of Kanchenjunga and the other Eastern Himalayan peaks.
Darjeeling Ropeway
Darjeeling is home to the largest ropeway of Asia. The Darjeeling-Ranjit Valley Ropeway will give any rider the jitters as he/she sails through the clouds and is offered a mind-blowing view of the wide, lush green tea gardens below. Darjeeling ropeway also called as the Rangeet Valley Passenger Cable Car.
Rock Garden & Ganga Maya Park
Also called as Barbotey Rock Garden. The garden is about 10 kilometers from Darjeeling & Ganga Maya Park are scenic parks in wonderful settings located a few miles away from the Darjeeling town. Ganga Maya is 3km from rock garden.  Ganga Maya further spread out and has a gorgeous river flowing through it on a valley, has flower beds, streams and more.
Japanese Temple & Peace Pagoda 
Japanese Temple & Peace Pagoda is symbolic of peace and tranquillity. Settled in the Jalapahar hill, Japanese Temple is constructed in old Japanese style where join the prayers and feel the religious peace amongst humming and mantras. From here You can also see the snow peak Mountain range.
Observatory Hill and Mahakali Temple
An ideal spot for a 360-degree picture of Darjeeling and the mountains encircling it.  Mahakal Temple, the primary temple of Darjeeling of all religions is positioned on a high hill where the original  Buddhist Monastery.
Darjeeling  "Toy Train"
notably famous 'Toy Train' is the most famous attraction in Darjeeling, which runs on a 2 feet narrow railway gauge. This vintage British B-class steam locomotive carries daily tourists between New Jalpaiguri and Darjeeling. The Darjeeling Himalayan Railway Toy Train was declared a World Heritage Site by UNESCO, This makes Darjeeling Himalayan Railway, the Second railway in the world to have such an honor after Semmering Railway, Austria.
Climate 
Darjeeling sees a decent amount of tourists even during the monsoons. A few thunderstorms and rain showers don't seem to deter them. Yes, that is how much people are in love with this place. However, Monsoons see Darjeeling temperature variations between 15 to 20 degrees.
Autumn, winter, spring, and summer are the four best seasons for a trip to Darjeeling and this entire period i.e. the best time to visit Darjeeling would be between September and June.
Where to stay in Darjeeling
A large number of 2-star, 3-star hotels and also homestays that are sure to elevate your hill station experience. If you prefer world class luxury stay, choose from a list of deluxe, 5-star Darjeeling hotels. Some of which Windermere, Cedar Inn, Viceroy, Sinclairs, Fortune Nirvana, and Sterlings are the most popular. Budget stays include The Aliment Hotel at Dr. Zakir Khan Road, Swiss Hotel at Gandhi Road which is a one-of-a-kind stay and also Hotel Zodiac at Gandhi Road.
What to do
Singalila National Park
The Singalila National Park offers a view of the Himalayas one can trek from Sandakphu to the Phalut passes through the Singalila at Rupees 800 per day. You can hire a private guide either at the GTA Tourist Reception Centre, at Travel Agencies or at the starting point of the trek in Manebhanjyang, about 26 km away from Darjeeling.
Pony Rides at Chowrasta
Let your kids enjoy a good pony ride from Chowrasta around Observatory Hill or across tea estates to a monastery. Although this activity is safe and the Ponies are accompanied by horsemen at all times, keep an eye out for your precious kids and don't let them out of your sight even for a minute.
Lloyd Botanical Gardens
Starting from the Chowk Bazaar follow the signs along Lochnagar Road until you reach the main entrance where the honking of jeeps replaced by the pleasant buzz of cicadas. These gardens are strikingly beautiful and pleasant to walk through. They have an amazing collection of Himalayan plants like the Orchids and Rhododendrons.
Where to Shop 
Indeed your Darjeeling trip incomplete if you don't haul some exquisite handmade souvenirs home. Tibetan Masks, beautiful handmade jewelry, traditional boots, shawls, and Pashminas must be top of your shopping priority list. Chowk Bazaar area has a large collection of interesting artifacts. Ghoom Monastery Market boasts of expensive Tibetan prayer items like Prayer wheels, Prayer flags, and singing bowls. However one must browse through an amazing collection of books on the Himalayas and Mountaineering at the Oxford Book and Stationery Company located at Chowrastra.
Where to Eat 
Darjeeling a food paradise with not just many different dishes but many different cuisines to choose from. A majority of eateries provide Bengali, Tibetan, South Indian, Naga, Nepali, Continental, Chinese and Tandoori delicacies at pocket-friendly prices. Speaking about, The Park Restaurant at Laden La Road offers a mixture of Thai, Chinese and Indian food. To enjoy some authentic Tibetan food, visit the Kunga restaurant at Gandhi Road. Hop into Glenary's Restaurant at Nehru road. Above all this 100-year-old British style eatery offers Continental/Chinese/Indian and has an amazing bakery full of sweet treats.
How to reach Darjeeling
By Train
Worry not, there are trains, air as well as bus routes to the beautiful city of Darjeeling. The New Jalpaiguri Railway station is the one and an only broad gauge railway station that is the nearest railway station to Darjeeling. It, fortunately, connects to most major cities in India. Therefore New Jalpaiguri is also immensely popular for the Darjeeling Himalayan Railway which is a 2 feet narrow railway gauge that runs the alluring Darjeeling Toy Train.
By Air
Particularly, travel in style and land in Darjeeling Airport, take a direct plane from Kolkata, Delhi or Guwahati to Bagdogra Airport which is the nearest airport to Darjeeling, located at Putimari, 65 km away from the city of Darjeeling.
By Bus
Take a regular, rocket or Volvo bus from Kolkata to Siliguri Main Bus Terminal at Hill Cart Road. Once you get there, hire a bus, shared jeep or taxi to Darjeeling.
Map Of Darjeeling