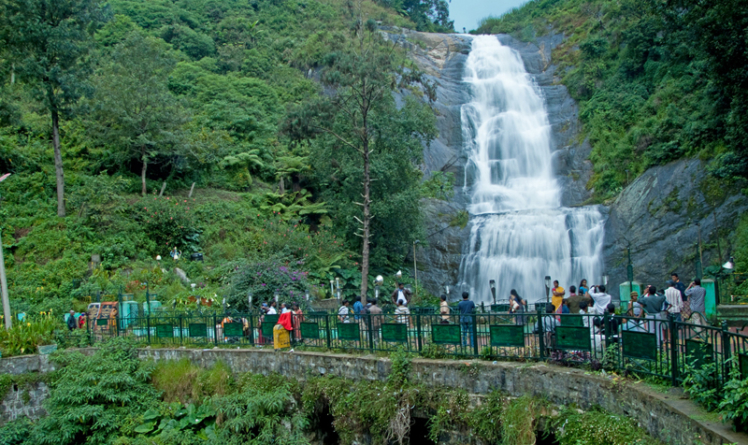 Kodaikanal: The gift of the forest
About Kodaikanal Hill Station
Serene Lakes surrounded by rocks, soothing air embracing the atmosphere of waterfalls, together showcase the mesmerizing magic of nature in the magnificent hill town of Kodaikanal. Located in the South Indian state of Tamil Nadu, in the Palani hill range, this picturesque destination is situated 7.2k feet above sea level. This tourist spot is known for beckoning honeymooners, backpackers, and even students and casting an enchanting spell on them during their trip. The Kurinji flower, which blossoms only once in every 12 years imparts ethereal beauty and charm to Kodaikanal tourism.
Places to visit in Kodaikanal
Kodaikanal Lake
Shaped like a star, this magnificent 60-acre man-made lake is one of the most popular Kodaikanal tourist places. Surrounded by the Palani hills, this is the perfect spot for a scenic boat ride, clicking pictures or even be a part of the boat fairs and flower shows in the summer.
Pillar rock
8kms away from the bust stand lies one of the most famous tourist spots: 3 granite boulders standing shoulder to shoulder, with a height of about 400ft. These pillars offer a bird's eye's view of the beautiful gardens surrounding it.
Guna Cave
Located between 2 Pillar rocks, the fog outside it makes it look like a devil is cooking, giving its name: Devil's kitchen. This cave is known for its tempting trekking paths towards the beautiful pine forests. But the narrow caves have been closed due to tragic deaths of 12 young people there and hence now it can only be viewed from afar.
Bear Shola falls
Just 3kms away from the bus stand; this is a perfect picnic spot overlooking the beauty of the falls during the rainy season. The shola forest around the falls is paradise for wildlife and trekking enthusiasts.
Berijam Lake
21kms away from Kodaikanal, this serene lake is surrounded by mesmerizing forest where animals such as panthers, bison, deer etc. are spotted. Berijam lake is a perfect relaxation spot with flowers surrounding it making for a beautiful view. The fire tower, lake view, medicine forests and other attractions surround the lake. Open every day, except Tuesdays from 8 am onwards, the entry fee for vehicles is rs150 and allows the entry of only 80-100 vehicles per day.
Palni Hills
Absorb the splendor of the lush green peaks and the forest filled with wildlife here. The Palni hills are also home to Lord Murugan, who is Tamil Nadu's most worshipped deity. This beautiful hill can be conquered either by stairs, rope train or ropeway.
Kurinji Andavar Murugan temple
Just 4kms away from the bus stop, the famous Kurinji flower blooms only once in every 12 years in this area devoted to Lord Murugan, built by a European lady in 1963 converted to Hinduism after coming to Ceylon.
Weather in Kodaikanal
The weather in Kodaikanal is pleasantly moderate throughout the year with summer lasting from March to May, monsoon lasts from July to August and then a pleasant winter from November to February.
Best time to visit Kodaikanal
April to June in Kodaikanal is Peak Season and The period from February to March and July to September is the low season and hence most tourist spots aren't crowded and the accommodation places are virtually empty.
| | |
| --- | --- |
| Season | Months |
| Peak Season | April–June |
| Low Season | Feb-March; July–September |
| Second Season | October–January |
What to do at Kodaikanal
Kodaikanal is definitely a paradise for adventure lovers with its activities ranging from cycling around the nearby valleys to trekking from the Berijam Lake or Dolphin nose to horse riding to even yoga sessions to rejuvenate oneself to paddling around the Kodaikanal Lake and feeling enchanted by the luscious green hills.
How to reach Kodaikanal
This beautiful hill station is well connected to all major cities and metro stations.
a) By Air
The nearest airport: Madurai airport, 121kms away from Kodaikanal
b) By Road
By road, the distance from Coimbatore to Kodaikanal is 170kms, from Chennai to Kodaikanal it is 513kms and is a distance of 463.9kms from Bangalore to Kodaikanal. One can also travel from Ooty to Kodaikanal by road (264kms) and regular buses to luxury ones are available from Theni, Tiruchirappalli, Thekkady etc.
c) By Train
By train, the distance from Madurai to Kodaikanal is a mere 41kms and by road, it is 112kms station. Kodai road station, Palani railway and Dindigul railway junction are the closest railway stations at the distance of 80kms, 64kms and 100kms respectively away from Kodaikanal.
Festivals
The festivals here are as vibrant as the natural beauty of Kodaikanal and hold its culture and tradition very close to their celebrations.
Pongal, the harvest festival (in January), Natyanjali (in March/February) and Chithirai festival are all celebrated with century-old customs and traditions.
Mother Salette Church, a 133-year-old edifice hosts a 9-day festival in August every year and the 14th/15th of the month, a great feast is organized to conclude the celebrations.
Kodaikanal also hosts the Summer festival (in May), flower exhibitions, fruit shows and boat races and the tea and tourism festival (in January) with delicious south Indian food and cultural programs
Where to stay in Kodaikanal
The accommodation options here range from cheap hotels in Kodaikanal to luxurious star ones with facilities like room service, multi-cuisine restaurants, entertainment packages etc. that is best if booked in advance. The resorts in Kodaikanal usually preferred by cosmopolitan couples and honeymooners Also offer colonial style cottages, spa facilities and outdoor activities in Kodaikanal.
The homestay option is also very popular here with independent cottages in Kodaikanal with a garden view and local cuisine food along with various sightseeing activities that are preferred by large groups of students or travelers.
Food
This heavenly hill station is home to Sindhi, Punjabi, and Gujarati cuisine, apart from the traditional south Indian food, all made with fresh locally grown vegetables. The local South Indian food is served in small café's in the bazaar area and hospital roads.
Tava serves some of the best vegetarian North Indian food ranging from Gobi parathas to Sev puri at very affordable rates, whereas Organic food lovers can head to Eco-nut for some organic cheese and baked good, all freshly made. Tibetan food: Thukpa, Fuyong, and Momos available at Tibetan Brothers is also a must try.
Shopping
Kiki's bookshop is famous for its unique production of cheese, bread items, sauces etc. whereas Caroselli's Montasio is famous for its delectable cheeses and George's Gourmet Kitchen's baked pieces of bread and Choco chip cookies, stone ground mustard etc. make for delicious souvenirs.
Handicraft and handloom heaven: Khadi emporium and Kashmiri Handicrafts Center's exquisite range of leather products, woolen shawls, brass jewelry, lampshades, walnut wood and bone articles etc. that make for great gifts to take back.
Natural oils (like Eucalyptus) and herbs used in aromatherapy, chocolates, sweaters, and shawls can be bought from Bazaar road after a healthy round of bargaining.