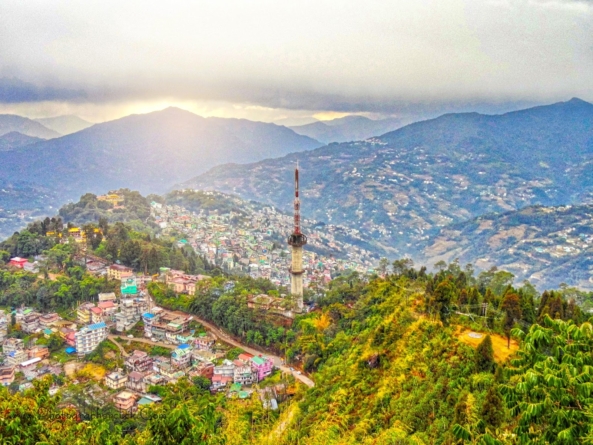 Gangtok – Hills that glorify patriotism and beauty.
The literal meaning of Gangtok is "The High Hill." It is a Charming Hill station perched on a ridge at a height of 1650 m above the sea level. Highly alluring, pleasantly and outlined with clouds – Gangtok, the capital city of the Sikkim can also give you a spectacular view of Mt. Kanchenjunga, at a distant skyline. The tall and honourable snow-covered peaks of Kanchenjunga roosting to a height of 8598 m form a majestic backdrop to this beautiful capital of Sikkim.
The immaculate hill station settled in mountains and mists encourages trekkers towards the Himalayan mountain ranges. However, the magnificent view and the excellent winding slope streets are much all the more amazing if seen from a Ropeway.
Over the years Gangtok has encountered blasting economy and headway of way of life. Anyway, it has stayed as a serene place with a blend of various societies and ethnicity. Gangtok spreads over a forested mountain that faces the Kanchenjunga snow crests. There are numerous vantage focuses in and around Gangtok from where you get heavenly perspectives of Kanchenjunga and other Himalayan snow crests. Truth be told each goad stretching out from this slope town offers a setting of an incredible sight.
Overview
The city positioned at an elevation of 5410 feet in the east of Sikkim. The name of the city "Gangtok" signifies the 'Top of the Ridge'. Around 1894 to 1975 Gangtok was a part of Namgyal kingdom and when Sikkim came under India Gangtok declared as the capital of the state. Gangtok comprises a continuous increasing economy and a great lifestyle over the years. A mixture of diverse culture, traditions, and a calm place. It has a glorious view of Kanchenjunga and Himalayan snow peaks. The main canter of town M.G Marg the mall area. The only pedestrian allowed to walk. No vehicle allowed here. There are lush green valleys with snow covered mountain top worth a view.
Gangtok has numerous taxi and bus stands, and each allocated for particular purpose. While approaching from Siliguri or Bagdogra by bus or taxi, you will be dropped at the Deorali taxi stand located 2kms below the Gangtok town center.
Place to Explore
Gangtok Rope-way
While you are at Gangtok you should visit ropeways is located at Deorali market.  This Ropeway is around 1 km long has three stops. The minimum point is at Deorali market and the maximum point at Tashiling (underneath the state secretariat). There is a midpoint stop at Nam-Nang. One can enter from any point and come back to the same point besides that includes touching other 2 points. Rope-way gives a fantastic view of Gangtok market, valley and assembly hall of Sikkim on its 15 to 20 minutes travel.
Tashi View Point
This sizzling viewpoint does not have a match because of its unpolluted surroundings which have been created in a way that enables the sightseers to comprehend the stupor of the Himalayas. The pleasant atmosphere of the Tashi viewpoint and the picturesque views adding to the serenity makes it an amazing viewpoint for the tourist to look at the Phodong Monastery and Labrang Monastery from here. This place no less than a heaven for all the nearby localities and in addition youngsters who gather here amid the ends of the week to appreciate and be a piece of the mind-blowing tourist place.
Nathula-La Pass
Nathula, also known as the China border one of the highest driving points in the world, that co joins Sikkim and China. Nathula Pass arranged on the Indo-Chinese outskirt and one of the most famous destinations in India. Many visitors run here consistently to trek in the valley and getting a charge out of the grand excellence. There are various brooklets or waterfalls that rush en route from Gangtok to Nathula. It likewise offers a chance to see lovely snow crests surrounding the region.
Harbhajan Baba Mandir
Arranged out and about going amongst Nathula and Jelepla Pass, at a separation of 64 km at a rise of 4000 meters, Baba Mandir is the place of worship which was worked over the Samadhi of Baba Harbhajan Singh.  History speaks that, while driving a pack of donkeys from his division at Tukla to Deng Dhukla in East Sikkim, Sepoy Harbhajan Singh disappeared. After a hunt, his body was found after following three days, by the soldiers. It believed that he was the one who drove the soldiers to his body.
Thereby, numerous officers in the troop claim that Baba had been coming in their dreams requesting that they assemble a Mandir in his memory.  Many believe that Baba visits the temple every night and does his duty rounds, wearing his uniform. Besides this, Individuals love him as a brave soldier and a holy spirit who protects the lives of fighters along the fringe.
Tsomgo Lake
Lies between the mountains the Tsomgo Lake one of only a handful couple of high-height lakes in India arranged on the Gangtok-Nathula highway. This lake a piece of each traveler's list and for a justifiable reason-it's mind-boggling. Tsomgo Lake is a frigid lake that gets its water from the melting snows of the mountains around it. However, the rainy season witness a brilliant sea green/blue lake while, in the winters, the lake solidifies into a translucent front of ice.
As the late spring approaches in mid-May, the fringe of this lake specked with a thousand blooming flowers that decorate the periphery with vibrant colours.
Ganesh Tok
Ganesh Tok an adored traveler spot in Gangtok and a small temple devoted to worship Lord Ganesha. Arranged over a slope along that helps visitors have an amazing scenic view. The temple anyway so little that it can just fit one individual at once. Besides the place makes you a stride nearer to nature with its strange environment and soothing atmosphere.
Hanuman Tok
Arranged at the tallness of 7,200 feet the lofty temple located against the Kanchenjunga which the third highest peak in the world. Therefore  Claimed in the history that Hanuman Tok the place where Hanuman Ji rested for a while on his way to Lanka carrying the Sanjeevani parbat. Earlier Individuals used to worship a stone that was available here, in the open, until Appaji Pant ( An officer) constructed a statue of Lord Hanuman in the 1950s. Therefore believed that all desires get satisfied here, which attracts the attention of local people and additionally travelers from everywhere throughout the nation. And many more famous places like Namgyal Institute of Tibetology, Banjhakri Falls, Burtuk waterfall, Ranka, Rumtek Monastery, Enchey Monastery, Handloom & Handicraft Centre, Do-drul-Chorten, Nam Nang, Orchid Sanctuary, Deer Park, Himalayan Zoological Park, Sa-Ngor-chotshog center, Pal Zurmang Kagyud Monastery, Phodong.
Culture & Food
Gangtok portrays diverse ethnic gatherings of individuals who make their home in this city. Music a much-adored type of amusement in the city. Western music, Hindi rock melodies, and Nepali rock music are extremely well known in Gangtok. Brilliantly costumed traditional dance, called 'chhaams', are organized during festivals. Football, cricket and bows and arrows are the favored games in Gangtok. Momos (steamed dumplings), thukpa (noodles in soup), chowmein (noodles) and shah paley (Sikkimese patti enclosed by batter) are a couple of the mouth-watering claims to fame of Gangtok.
Climate 
Winters 
This season outrageous in Gangtok and it can be cool out there at a young hour in the mornings and at evenings. The normal temperature floats around 4°C.  Snowfall in Gangtok town isn't casual, places from Gangtok like Tsomgo Lake and Nathula Pass shut their roads due to the snow. Another issue amid winter (especially in February) the haze. You will frequently discover white covers of fog obstructing the sight scenes.
Monsoon 
You may see constant downpours or shady sky. This is the time when landslides normally occur. Anyway, the whole territory ends up rich green and looks at peace without sightseers. Besides long stretch of July observes heaviest downpours. A portion of the best festive celebrations occurs in this season. Most sightseers don't generally visit Gangtok amid winter and rainy season.
Summer
Summer season, the climate generally warm. During summer (April to June), the temperature in Gangtok ranges from 20 degrees to a maximum of 27 degrees and the ideal time when one can discover a relished holiday.
Spring
Springtime in Gangtok and most likely extraordinary compared to other time to visit. The climate icy yet the skies are clear, giving you an all-encompassing view of the mountain ranges. Therefore the best time frame to enjoy the experience exercises.
How to reach
By Air
Bagdogra the closest Gangtok Airport at 125 km. However, you can also book a taxi ahead of time to take you up to Gangtok. Helicopter administrations are likewise accessible from Bagdogra to Gangtok. However, It takes around 4 hours to achieve Gangtok from Bagdogra airplane terminal.
By Road
Cabs are accessible from the majority of the urban communities adjacent. Transports from Siliguri are likewise easily available and besides this self-drive more convenient.
By Train
Around 117 km from Gangtok resides its nearest railway station named as Jalpaiguri in Siliguri. New Jalpaiguri very much associated with significant urban communities in India. It takes around 4 hours to achieve Gangtok from New Jalpaiguri station.
Map of Gangtok