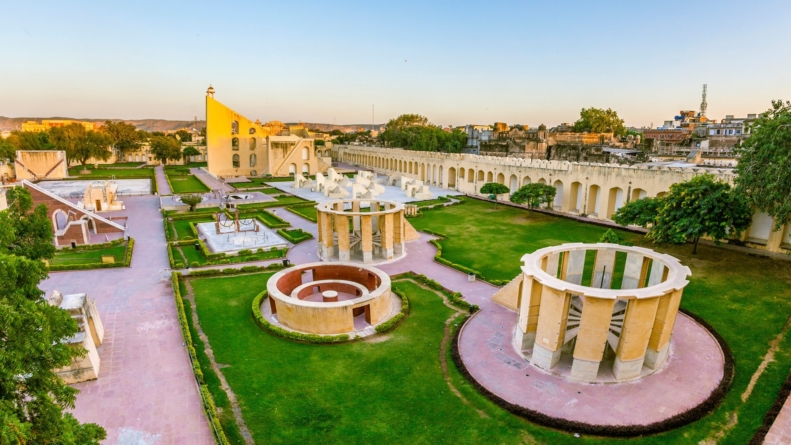 Jantar Mantar is a very famous tourist destination in Jaipur. The Jantar Mantar is situated in the main city of Jaipur, near the City Palace Museum. It attracts a large number of domestic and international tourist. An observatory which is constructed in the  18th century by Maharaja Sawai Jai Singh II of Amer, a group of architectural tools which used to examine the progress of planets and stars.
Overview
The  Jantar Mantar Jaipur is the largest and best-preserved observatory among other five observatories made by Maharaja Sawai Jai Singh II. Listed in the UNESCO World Heritage. It comprises 14 significant geometric tools for calculating time, foretelling eclipses, trailing stars' position as earth circles around the sun, discovering the planets, and ascertaining the astronomical elevations. Each is a fixed and focused' tool.
Name 
Jantar Mantar actually signifies a calculating instrument.  In the name Jantar Mantar, Jantar means machine or instrument and Mantar means to calculate.
Purpose
Sawaii Jai Singh built five new observatories in different regions to create more accurate Zij. To predict the position of the moon and sun.
Famous architectural instruments at Jantar Mantar
Vrihat Samrat Yantra: This is a Sun Dial that can give the time to an accuracy of 2 seconds.
Sasthamsa Yantra: It is used for measuring the declination and zenith distance of the Sun.
Jai Prakash Yantra: These are twin hemispherical bowl instruments.
Nadivalaya Yantra: Helps in determining the time.
Horizontal Sun Dial atop Nadivalay: Determines the time on the day of Equinox
Krantivritta Yantra: Measurement of celestial latitudes and longitudes.
Krantivritta II: Measures Celestial Latitude & Longitude.
Dakshinottara Bhitti Yantra: Measures the altitude or the angular height of celestial bodies.
Yantra Raj: Measuring ascendant altitude, time, the position of the sun and other celestial objects
Chakra Yantra: It calculates the distance from North or South of the astronomical tropics.
Digamsha Yantra: Discovers the azimuth of a celestial object.
Unnathamsa Yantra: Measures altitude or angular height of a celestial object.
Rasivalaya Yantra: Measures the celestial latitude and longitude of zodiacs.
Kapala Yantra: Measuring the ascendant and zodiac
Laghu (Small) Samrat Yantra: Measures time
Great Ram Yantra: Measures the local coordinates of altitude and azimuth of celestial objects
Dhruva Darshaka Yantra: North Star Indicator
Disha Yantra: Indicates direction
Small Ram Yantras
Highlight Of  Jantar Mantar, Jaipur
| | |
| --- | --- |
| | |
| | |
| | |
| | |
| Organization Associated With | Listed on UNESCO World Heritage List |
| | |
| | 9:00 AM to 4:30 PM every day |
| | |
| | |
| | |
| Entry Fee For Foreigner Student | |
| | |
Famous places Near Jantar Mantar are
City Palace, Jaipur
Hawa Mahal
Jal Mahal
Jaigarh Fort
Nahargarh Fort
Amer Fort
Climate 
Summer
The temperature in the month of summer at Jaipur is quite high. The temperature reaches 50 degrees.   Arid, extremely hot and sweltering sun is Jaipur in the time of summers.  .It varies from Max. 45 °C to  Min. 25.8 °C.
Winters
In winters, the temperature falls to 3 degrees. Winter is the ideal month for tourists. Jaipur gets the average rainfall of 556 mm and at that time weather is quite enjoyable. Temperature varies from Max. 22 °C Min. 8.3 °C.
How to Reach Jaipur, Jantar Mantar
By Air
The Jaipur Airport is 7 to 10 km from the main Jaipur city.

By Train
Jaipur is connected to all major cities of India.

By Road
Jaipur is connected with National Highway (NH 8 and NH 11) which links to Delhi and Mumbai and other major cities.
Map Of Jantar Mantar