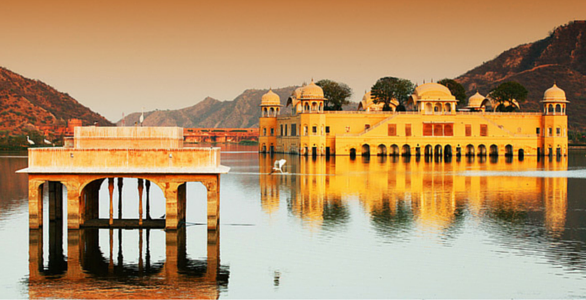 Jal Mahal : A Beautiful Palace in a Lake
About Jal Mahal:-
Jal Mahal is a famous tourist destination in Jaipur. Meaning of Jal Mahal is "Water Palace". It is located in the middle of the Man Sagar Lake in Jaipur, Rajasthan.
History of Jal Mahal
The lake was created by constructing a dam across the Darbhawati River, between Khilagarh hills and the hilly areas of Nahargarh, in the 16th century. During 1596 AD, when there was a severe famine in this region and a shortage of water. Then-ruler of Amer built a dam to store water to overcome water shortage. In the 18th century "Maharaja Jai Singh II "restored the Jal Mahal. During this period, a number of other historical and religious places, such as the Amer Fort, Jaigarh Fort, Nahargarh Fort, Kishangarh Fort and Kanak Vrindavan Valley were also built in the vicinity.
Overview
Built By                      Sawai Pratap Singh
Built-In                       18th century
Attraction                   Located in the middle of Man Sagar Lake
Nearby Attractions   City Palace, Jantar Mantar, Nahargarh Fort, Amer Fort, Hawa Mahal, Chand Baori etc.
The Architecture of Jal Mahal
Jal Mahal built with red sandstone; it was built in The Rajput and The Mughal styles of architecture. Jal Mahal is a five storied building out of which four floors remain under water when the lake is full and the top floor is exposed. It contains a beautiful garden on a terrace with arched passages.  At each corner of this palace semi-octagonal towers were built with an elegant cupola.
Jal Mahal Famous For
It is famous for its unique surrounding and architecture. The Lake is surrounded by hills and it gives a great view to Jal Mahal. The lake was a natural habitat for more than 150 species of local and migratory birds.
Architecture
It was built in The Mughal and The Rajput style of architecture and as a five storied building with the red sandstone.
How to Reach Jal Mahal
The Jal Mahal has situated around 4 km from the main city of Jaipur. Jaipur is located in the center of Rajasthan; Jaipur is connected with National Highway (NH 8 and NH 11) which links to Delhi and Mumbai. Distance from Delhi is 273 kilometers. The lake is 8 kilometers from The Amer Fort.
Climate Of Jaipur
Jaipur is moderate in temperature.
Summer: Max. 45 °C Min. 25.8 °C
Winters: Max. 22 °C Min. 8.3 °C
Map Of Jal Mahal