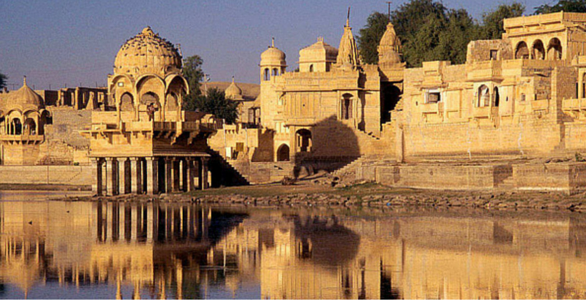 Jaisalmer: Land Of artistic structures and monuments.
About Jaisalmer:
Jaisalmer is one of the famous tourist destination and cultural hub in India. It lies in the heart of the Thar Desert (Rajasthan, India). Jaisalmer is situated in the western Rajasthan region. Jaisalmer is close to Indo-Pak border.
Facts About Jaisalmer
Jaisalmer  named on "Maha Rawal Jaisal Singh", a Rajput king.
Maha Rawal Jaisal Singh founded the city in 1156 AD
Meaning of "Jaisalmer" is "the Hill Fort of Jaisal".
Jaisalmer is also called the "Golden City of India" because of the yellow sand and the yellow sandstone used in every architecture of the city which gives a yellowish-golden tinge to the city.
Jaisalmer is filled with many artistic structures and monuments.
Jaisalmer is famous for medieval mud fortress and walled township which make it a popular tourist destination.
Highlights Of Jaisalmer, Rajasthan
 

western Rajasthan ( Thar Desert)

Jaisalmer Fort, Havelis, and Gadsisar Lake.

Rajasthani, Hindi, and Urdu
Jaisalmer is bounded on the north by Bikaner, on the west & south-west by the Pakistani border, on the south by Barmer and Jodhpur, and on the east by Jodhpur and Bikaner.
The length of international border attached to District "JAISALMER" is 471 km (293 mi).
Distance

 

from Major Cities
Climate of Jaisalmer
Jaisalmer has a hot and arid climate. Jaisalmer is very hot in daytime during the summers but as the night falls temperature cools down dramatically.
Summer
Summer Starts from  April to August when the average Maximum temperature remains around 40°C. In this period use light cotton clothes and its recommended to fully cover your body parts with appropriate clothes because it protects you from Suntan and heat strokes.
Monsoon
It rains very little during the monsoons Due to its geographical conditions.
Winter
Winters are pleasant in Jaisalmer with the mercury hovering around 25°C. Nights are really chilly and average night temperature is around 7 to 8°C. Nevertheless, there are instances when the temperature has dipped to as low as 2-3°C. Heavy winter clothing is preferable.
What to eat in Jaisalmer
The murgh-e-subz succulent, boneless strips of chicken stir-fried with shredded vegetables, is one not to miss. Alternatively, you can try the key sangria (desert beans and capers), which is unique to a region that traditionally saw very little meat.  vegetable kebab,  kadi pakoras,  Shanon aloo, potatoes stuffed with mint paste and simmered in gravy.
How to Reach Jaisalmer
Jaisalmer is situated in the Rajasthan and a popular tourist destination, therefore, it is well connected to the rest of India by airways, railways, and roadways.
How to reach Jaisalmer by Airways
Jaisalmer is not directly connected to Airways, Jodhpur airport is 300 Km away from Jaisalmer. Jodhpur is connected to all the major city of India by a government and private airlines. From Jodhpur, you can hire a taxi or take a train.
How to reach Jaisalmer by Railways
Jaisalmer is connected to major cities of India through railway. Direct trains from Jaisalmer are available to Jodhpur as well as Delhi. Indian Railway provides luxury train service to visit Jaisalmer by "Palace on Wheels".
How to reach Jaisalmer by Roadways
Jaisalmer is well connected to the rest of state by well-maintained roads. Due to its proximity to Indo-Pak border, special emphasis is given on its maintenance. Deluxe & Ordinary buses of Rajasthan Roadways & Private companies operate from Jaisalmer to Jodhpur, Jaipur, Bikaner, Barmer, Mount Abu, Jalore, Ahmedabad etc, Roadways main bus stand opposite Railway station & Golden bus terminal near State Bank of Bikaner and Jaipur, Shiv road, Jaisalmer are the two major bus stands.
When to Visit Jaisalmer
The best time to visit Jaisalmer is from October to March, although the  Jaisalmer is full of tourists throughout the year.
Famous Place near Jaisalmer
Amar Sagar Lake
Bada Bagh Jaisalmer
Desert National Park Jaisalmer
Wood Fossil Park Jaisalmer
Khuri Sand Dunes
Lodurva Jaisalmer
Mool Sagar
Phalodi Travel
Sam Sand Dunes
Gadsisar Lake
Jaisalmer Fort
Map Of Jaisalmer