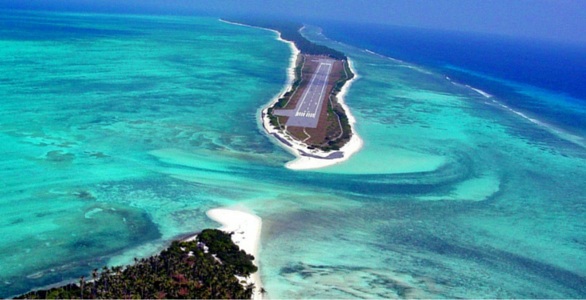 A Beautiful Airport in the Deep Sea : "Agatti Island"
Interesting Fact about Agatti Airport
Agatti Airport is located on the southern end of "Agatti Island".
Agatti is part of the union territory of "Lakshadweep" in India.
Agatti islands open to tourism. (the Island under certain restrictions)
Tourist required entry permit from the "Lakshadweep" Administration for visiting the island. the entry permit is issued based on the visitor having a confirmed place to stay.
There are only two hotels or resorts in Agatti ("Agatti Island Beach Resort" & "Sea Shells Beach Resort")
Agatti Island is a tiny 7 km long island and it can be easily covered on foot or by bicycle.
The airstrip was constructed during 1987−88.
It was inaugurated on 16 April 1988.
Agatti airport is spread over 18.56 hectares (45.9 acres).
It has one asphalt runway
its terminal building can handle 50 passengers during peak hours.
It is operated by the Airports Authority of India.
Agatti Airport (AGX)
Length : 4,235 (1,291 m)
IATA Code: AGX
ICAO Code   VOAT
Latitude: 10.8237
Longitude: 72.1760025
Time Zone: Asia/Kolkata (GMT +5.5:00)
Map of "Agatti Island"
Source :   Wekipedia
"Inditrip welcome all your valuable suggestion and comment here, also if you wish to share any topic related to Indian tourism, Join our team and we will publish your content with your name".