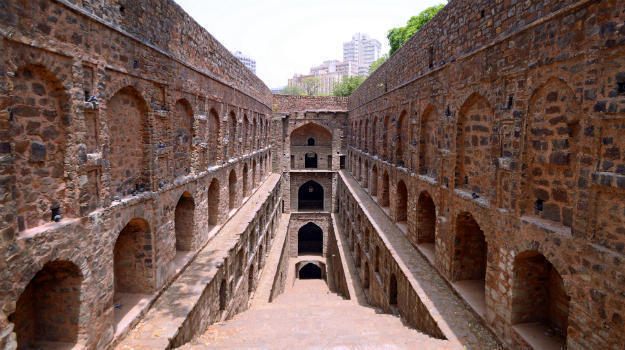 "Agrasen Ki Baoli" – New Delhi, India
      Agrasen Ki Baoli
"Agrasen Ki Baoli" is a historical monument of India.
Agrasen ki Baoli is also known as "Agar Sain Ki Baoli " or "Ugrasen ki Baoli"
It is protected by the "Archaeological Survey of India".
Agrasen Ki Baoli is Located on the Hailey Road near Connaught Place.
It is walk distance from "Jantar Mantar" in New Delhi, India
It is a 15 meter wide and 60-meter long artistic step well.
It is made of red stone.
It is believed that it was originally built by the king Agrasen during the "Mahabharat" period.
Later it is rebuilt by the Agrawal community in the 14th century.
The step well includes about 103 steps leading towards the base that once stored water and consists of five different levels.
The stone walls of the Baoli, dressed with inventive designs with a series of the arched structure are grim and desolate, but still beautiful.
In "ancient India" step well is used as a water reservoir.
The Agrasen Ki Baoli in Delhi is considered as most haunted places in India.
Agrasen Ki Baoli is also shown in Aamir Khan's Movie "PK". (Released in Dec 2014)
The Famous places Near Agrasen Ki Baoli are:
Rashtrapati Bhavan
Gurdwara Bangla Sahib
Humayun Tomb
"Inditrip welcome all your valuable suggestion and comment here, also if you wish to share any topic related to Indian tourism, Join our team and we will publish your content with your name".
                                                                         Thank you..
 Email: inditrip.in@gmail.com
Related Post :
Read about deepest and largest step well in India.
List Of Step well In India
Tag: Stepwell, Delhi tourist place, Indian Monument, Jantar Mantar, Agrasen Ki Baoli, Baoli, haunted places in India, Agrasen, Inditrip, India trip, the tourist destination in India, Delhi tour, tour to Delhi, the famous place in Delhi.
Map of Agrasen ki Baoli, Delhi.