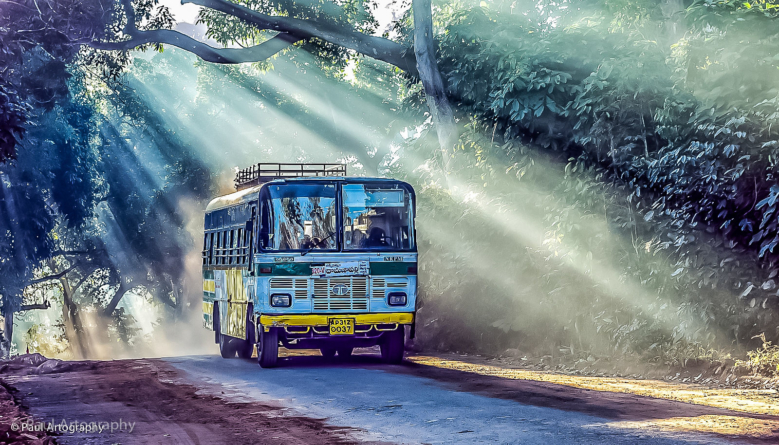 Lambasingi Kashmir of Andhra Pradesh
Wonder how could it snow in South India? Yes, it does and its just one place in the Southern part of India and to be precise in Andhra Pradesh. Hence, it is aptly known as 'Lambasingi Kashmir of Andhra Pradesh'. Lambasingi is a small town situated above the sea level in Vishakhapatnam at an elevation of 1024 meters.
Lambasingi is also known as Korra Bayalu which means "a person staying in open can freeze just like a stick!" in their local language. This town once cherished the experience of snow fall during the winter season, you might try your luck and visit this place to experience snowfall in the Southern part of India. Lambasingi has so much in its treasure to offer, to travelers apart from the experience of snowfall,  in the southern part of India.  The enchanting beauty of hills, rich-green forests, eye-catchy sightseeing view and much more. If you are ready to enrich your travel diary with unforgettable memories and lifetime moments, then this beautiful tourist gateway must be on top.
About Lambasingi
"Lambasingi, Hill Station in  Andhra Pradesh" also known as Korra Bayalu, has witnessed snowfall in the past years and also baths itself with the hails of snow in winters sometimes, that's what makes this place a beautiful hill station and a tourist attraction in Andhra Pradesh. Lambasingi, Vishakhapatnam is a peaceful town in India that is rich in culture and spirituality. This place is the perfect blend of new and old traditions followed by locals. Oriya and Telugu are the languages spoken by the locals. Telugu is the native language, migrants at this place commonly speak Uttrandhra. Oriya and Bengalis are other languages, spoken by people of Lambasingi.
Places to Visit in Lambasingi
Ararku Valley
Ararku Valley is one of the splendid spots to travel around in Lambasingi is a natural magnificence. A colorful valley of flowers and fruits is located,  Lambasingi to Araku is72km. The glorious beauty of coffee fields, waterfalls, rose garden, streams, greenery and so much else this valley has to explore. The soothing climate, lavishing mango orchards, beautiful pastoral hues, and vast garlands. The compelling beauty of this place will let you plan a trip to Lambasingi, again and again.
A Romantic Walk in The Foggy Ghat Road
The scarcely populated small town has something for all to offer. Ghat Road is an enormously beautiful and soothing spot for couples, to be placed on top of the list on your expedition to Lambasingi. The blanket of mist swathes all times that adds a romantic charm to this place. A memorable trip with your loved one to Lambasingi must end up with a walk down on the Ghat Road while fog assures you to enjoy cuddle moments.
Upadda Beach
After chilling breezes and foggy mist, you must be seeking warmth and some moments to relax. Get down to a beach in Kakinada-Uppada Beach that is merely at a distance of 120km from Lambasingi. A two hours drive from Lambasingi will take you to the sea breeze and bask in the sun. The soothing rays of the sun and sea breeze are savored on this impressive spot.
Black-Eyed Susan Garden
A mesmerizing small and lushly green garden with yellow black eyes susan flowers. It is an open garden for exploring and spend time just before the sunsets. The beauty of this place enhances during sunset as the sky is filled with different colors that makes a picturesque scene.
Tajangi Reservoir
A small and beautiful reservoir is at a distance of 6 km away from Lambasingi. The inspiring beauty halts your mind and seeks your attention, and let you give up the thought of leaving Lambasingi and Vishakhapatnam. The scenic beauty with flowing water and the background hills set the perfect spot for photography. A weekend trip to this place shall enrich your heart with peace and love for Mother Nature.
Hope Island
The landscape beauty naturally created around 500 years back due to sand drifting. This island is reachable by boat, as it is situated in the Bay of Bengal, at a distance of 7km. It is named so because it offers the natural haven from wind forces to the sailors and travelers. The affluent port offers a chance to explore numerous protected species of flora and fauna that flourish here.
Lambasingi  A perfect tourist place
The Lambasingi temperature is the most attractive aspect i.e. below 10 degrees.
A former director of the Indian Meteorology Department revealed that the cooling effect there is an odd cooling effect of the hills.
The little settlement of Lambasingi is cuddled up in the lush green and alluring forests of Chintapalli, which were used to be a home for Naxalites', a tribal community.
The retreat of winter can make any winters look pale, winter cant defines the name "Kashmir of Andhra".
Visitors will get to enjoy the tempting aroma of pepper and coffee plantations while heading towards Lambasingi.
You'll also find the apple orchards on the way to Lambasingi.
You'll reach a place where there's just peace and fog around you.
This place enjoys an unreal misty environment throughout the year, that swirls and moves around with the wind.
Nature's untouched legacy can be found therein a beautiful way.
The rawness of the beautiful green forests will make home in your heart as you trek through the forest.
The pale misty roads and the green lushes come along to serve you the best of nature.
Don't miss to say goodbye to the migrating birds over your head.
Interesting Facts About Lambasingi  "Kashmir of Andhra"
This hill station is located about 100 kilometers away from Vishakhapatnam.
It may wonder you that, its just Lambasingi that experiences such temperatures, otherwise the areas nearby Lambasingi acquire a normal temperature range of south India.
Those hills of Lambasingi are remote and thus do not favor tourists for hotel facilities. You'll need tents to make a stay at night there.
The place is an amazing journey for the bikers to enjoy the road trip.
Lambasingi is an untouched ornament of India which has magical views and the simplicity of nature. Finding Kashmir in South India could be the most appropriate line for this nature's lap.
Things To Do in Lambasingi
Camping and Trekking On Remote Hills
The abrupt thought of Campaigning and Bonfire can excite a person to plan a trip. Experience the thrilling activities proffered by hills and valleys nearby Lambasingi. Tourist explores exciting adventurous activities like Camping, Hiking, and Trekking on the remote hills of Lambasingi. Relish the peaceful moments in the lap of Mother Nature under the starry sky, and experience heaven like feeling in Camps at Lambasingi.
Gardens Crowned With Clouds
Farming of pepper and coffee is the chief source of occupation in Lambasingi. The verdant orchards all around small town are covered with pepper plantation,  surrounded by the enchanting beauty of wildflowers and secured with silvery clouds. A romantic walk in the winding trails of cloud-kissed gardens is fascinating and memorable.
Walk in the Misty Mornings
Lambasigni experience a temperature of 10 degrees Celsius throughout the year. This small town is blanketed with a white mist that swirls with the wind. Places at a distance of a few km away from Lambasingi experiences the temperature typical to a South India winter. Sun can be seen at around 10 am in the winter season at Lambasingi.
Adore the Splendor of Waterfalls
Kothapalli waterfalls are located at a distance of 25km away from Lambasingi. Lush green rainforest shields this cascading waterfall over the rocky layers drops into soothing drops. The impeccable tourist spot for enriching the soul and aids in getting rid of all the weariness of a monotonous schedule. The Untouched and pristine beauty of cascading waterfalls has no infrastructural activity.
Extensive Plantations of Pepper and Coffee
The major source of living for the locals of Lambasingi is the coffee and pepper plantation, these are exported to European and varied other nations. The plantation site is mesmerizing and worth visiting because of its prettiness.
Walk to Pristine Forests
A famous line by Robert Frost, "The woods are lovely, dark and deep." will strike in your head, while your expedition to these virgin forests. A trek through vast forests for bird-watching is a soothing and impeccable source of relishing moments in the lap of Mother Nature.
Lambasingi weather
The average temperature is about – 23.4°C. The climate of this place is classified as an Aw by the Köppen-Geiger system. During the summer the maximum temperature reaches up to 31 °C.  While in winters the temperature varies between 0°C – 10°C and sometimes lower than 0°C. The coldest months are December and January. It receives more rainfall during summers than in winters, which is about an average of 1231 mm.
Best Time To Visit Lambasingi
November to February is the best time to visit Lambasingi.
Since this place is a recently discovered tourist attraction, it is not really having enough facilities for the tourists. But you'll surely be able to spend time with mother nature and it's calming beauty. There's no make up an environment, it's just a simple, untouched, pure and raw place.
How to reach
By Road
This tourist destination is well connected by roads, a road trip is an amazing option for the trip to Lambasingi. Direct buses from cities like Vishakhapatnam, Chintapalle, Narsipatnam, etc are also available.
Lambasingi from Hyderabad is about 600Km
By Train
The nearest railway station to Lambasingi is Chintapalle, which leaves you 19 km before your destination.
By Flight
Vishakhapatnam is the nearest airport to the destination, which is about a 101kms away from there. Flights are available from any of the big cities.
Map Of Lambasingi