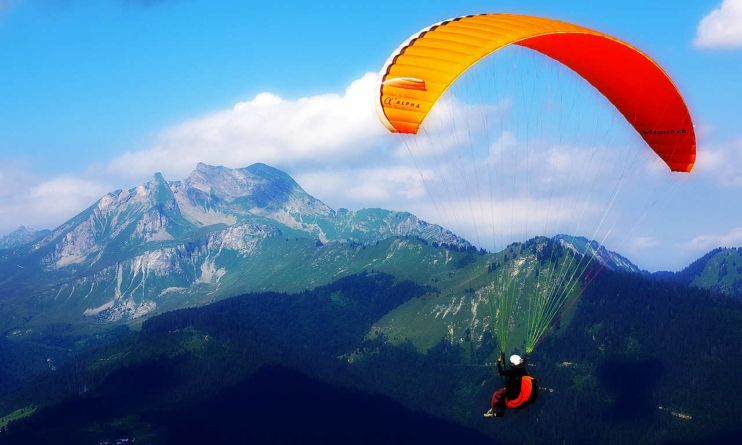 Paragliding in your Bucket List? Bir Billing is Just the Perfect Place
Bir is considered one of the best places in the world for paragliding and it hosts the World Paragliding Championship every year. The take-off site called Billing and the landing site Bir and the total height approximately 800 meters. Bir town also a major center of spiritual study and meditation. This city has a major Tibetan community town and Bir culture highly influenced by the Tibetan culture. This city holds the center of adventure sports activities and paragliding spots are ample here.  People can go for trekking in one of the most picturesque routes of Himachal Pradesh. Along with this, one should visit Deer Park and Bir Tea Factory.
Bir-billing considered being one of the top three paragliding destinations in the world. Acknowledged as India's paragliding capital, Bir attracts people in search of adventure from the whole country and the world. Hence, you can spend some great time here, with your feet in the air. As exciting, the activity of paragliding starts with billing (2400 meters) between green grasslands and in the western edge of the Tibetan colony in Chogan (Bir), 14 km south. While the experts get to do solo shows, a newbie gets a bold full ride in a two-seat glider with a skilled trainer.
Proper training programs and certification courses are available for beginners. Bir host the pre-paragliding world cup in the month of October.
Overview
The geographical location of Bir Billing makes it suitable for winter and even for heavy snowfall in the area. These are two locations, which are only 16 km away from each other and are located at a different elevation. Bir settled at 1350 meters from the sea level, and the billing located 2430 meters from the sea level.
Bir a place for lodging, shopping, sightseeing, camping, monastery, cycling, cafe and there no snowfall and less cold area than billing. During monsoon and during snowfall, way to ice remains open around the year. All can live in Bir and experience various activities here in all seasons. Every season has its own attraction, where the billing is located at a higher altitude, and there is heavy snowfall in winter, sometimes the experience of billing 3-4 feet snowfall. Nights happen to be very cold and not recommended because Bir has summer winding nights, during the winter in winter for 2-3 days, during snowfall, to spend nights with the streets in monsoon.
Paragliding
India's paragliding capital – Bir Billing and now a very popular destination for the country's adventure lovers and many foreigners.
Destination beer billing created in two places – Bir and Billing.  Bir a small village with various monasteries, markets, and paragliding landing areas. Bir, a place to live, camping in some hotels, guest houses and oak forest camps. While billing paragliding is 16 miles away from Bir, 2430 meters from sea level.
The village opens all the way through Bir Road and directly connected to Delhi via Volvo buses. In all seasons, the streets of Bir are always open. Bir also divided into several small villages like Bir, Gunner, Chaugan, Kaori, Bari, Dadi and Ghodana. In these villages – Koi and Chaugan happen to be tourist areas and houses for hotels and guest houses and camps.
Billing at the top of the hill at a distance of 2430 meters from sea level, from here the peaks and wonderful views of the Kangra valley. Billing off the road for a few days or days on the basis of snowfall. The snowfall experience of 2-3 feet for some time on Paragliding  Point Billing Ridge, open for the Kangra Valley. During snowfall or rain, paragliding closed and after that, it starts again, after checking the condition of air. In the winter the area quite cold and not allowed to stay in the nights. Billing also a place for small tents, but from mid-December to mid-March there is no suggestion for winter. Billing does not have water supply and there no electricity but there some shops of Maggi and tea.
Even if the road blocked due to ice, it has very little effect on paragliding activity. Snow team teams dive with the pilots, gliders, and guests until the point roadblock blocked and after a few miles of trekking, they reach the billing,  the paragliding point of the flight and flies from there.
If you choose a pilot and a recommended team, paragliding safe on Bir billing in any season. Traveling in the winter in the valley makes Bir Billing more beautiful because the whole valley full of snow and all the scenes are amazing. But please make hats, gloves and thick jackets to make yourself more comfortable.
How to Reach
Summer pleasant during the months of April to June, the best time to visit Bir. Due to monsoon there is heavy rainfall and landslides can occur and winters can be rigid to the zero level with temperature. October and November are the ideal months to fly from autumn and from March to May. Spring is also flyable, but 6-12 meters/sec.  At an elevation of 5000 feet, Bir Billing meets the clouds and is actually one of the most astonishing places in the North. There is two seasonal time to visit Bir – from March to May and from September to November.
There is no direct flight or train link for Bir. Ajju railway station is the nearest railway station, which is only 3 km. While away while Beer, Gaggla, Kangra Airport is the nearest airport in Dharamsala, which is 67.6 km. Bir Pathankot railway station is connected to the major cities of the country and Dharamshala Airport is connected to Delhi and Kullu. Any person can take a taxi or bus for Pathankot from Bir. Regular bus service feeds the beer through a well-connected roadway network. However, other airports near Bir include Chandigarh, Amritsar Airport and New Delhi.
Map of Bir Billing