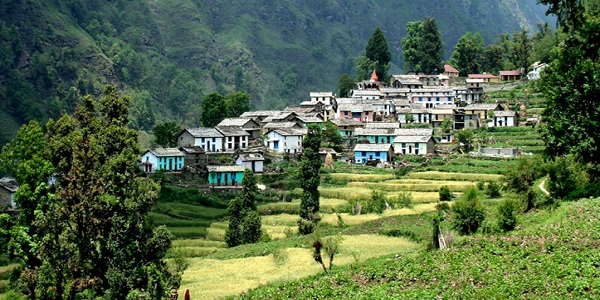 RANIKHET – NATURE'S JEWELLERY.
Ranikhet is the most tempting hill station among all other hill stations of India, and have everything that defines the beauty of the city. Famous for its, exquisite flora and fauna, dense green forests, with pure, fresh and scented breeze blowing from mountains and the noise of variety of birds, giving the overall view of India's largest mountain range called the Himalayas, makes it extraordinary.
Ranikhet is located in the district of Uttrakhand called Almora at the height of 1,829m above the sea level
According to the ancient history, Kumaoni Queen Padmini got mesmerized by the heaven of small hills of Himalaya ranges, and the King Sudhardev constrained her, by establishing the palace for her, named Ranikhet, though there was no palace earlier. Now, this place is managed and maintained by the Indian Army to maintain peace and decorum, even though crowd visits there daily.
Reasons for the popularity of Ranikhet is that it's a Peaceful hill station among tourists and localities and a  perfect destination for family, couples, corporates, and foreigners. It is also popular for adventures, business fulcrum, celebrations of events, holidays, shopping and Hill station.
Places to Explore in Ranikhet
Jhula Devi Temple
8km distant from Ranikhet were the followers of goddess Durga stops for their puja. Earlier, many wild animals used to attack villagers, now settled near the temple in dense woods. An extremely old eighth-century place of worship settled in a peaceful and quiet climate in the vicinity to Ranikhet, Jhula Devi Temple is one of the primary attractions of Ranikhet and is visited by numerous enthusiasts from wide and far.
Jhula Devi Temple Ranikhet
Chaubatia
Situated 10km south of the Ranikhet, famous for apples, flowers and the view of snowy mountains. Settled at a stretch of 10 km of Ranikhet, chaubatia includes more than 200 categories of leafy foods. There is an on going-over research facility situated inside its area. The tourists can similarly have a look at motherly nature.
Chaubatia
Bhalu Dam
Located 1km away from Ranikhet, constructed in 1903. A place which has preserved forest and man-made lakes, gives an amazing view of nature, with the overwhelming view of Himalaya mountain peak hugging the sun. A well-known fascination close to Ranikhet, Bhalu Dam is skilled with emerald magnificence, Himalayan mountains, charming peace and lovely surroundings that attracts the attention of travelers on holidays.
Bhalu Dam
Majkhali
Gives awe-inspiring view of Ranikhet and the Himalayas, is the finest place to see lovely landscapes seen from the highest peaks of the mountains. Other than its natural attractiveness the small village is also recognized as Maa Kali Mandir and abundant picnic spots adjacent the location. tourists who like greenery can visit near forest nursery where they can find a diverse variety of flora and fauna. Subsequently, Majkhali is 12 km from Ranikhet.
Majkhali
Katarmal Sun Temple
The former temple located at 25kms away from Ranikhet, has amazing architecture and many other attractive places in Ranikhet, while trekking. Katarmal Temple is devoted to Lord Burhadita or Vriddhaditya (the old Sun God) and is one of the well known chronicled spots of Kumaon slopes in Uttarakhand. The present picture of Surya in the sanctuary goes back to the twelfth century.
The Sun Temple is noted for its superb design and is a landmark of authentic significance.  The symbols of Shiva-Parvati and Lakshmi-Narayana can likewise be seen in this sanctuary. The building faces the east in a way with the end goal that the main beams of the sun fall on the Shiva Lingam. Stone-manufactured dividers, many-sided figures, excellent column carvings and wonderfully cut out wooden entryways are among the unmistakable highlights of this sanctuary.
Katarmal Sun Temple
Best places to visit near Ranikhet 
Mukteshwar: A place where 350-year-old Lord Shiva Temple is situated is 85km away from Ranikhet.
Dwarahat: 37km away from Ranikhet which is a Historical and an Archeological place.
Nainital: A district of Lakes, which is 59kms away from Ranikhet.
Almora: 49kms away from Ranikhet, famous for its delightful view of mountains, wildlife, and quirky craftwork.
Best places for shopping in Ranikhet
Varieties of handicrafts, woolens, and food.
The mall which is famous for woolen fabrics, shirts and kurtas, and tweed shawls.
Sadar Bazar is another popular place for embroidered clothes among shoppers.
Baal Mithai is the famous sweet from Ranikhet, which is worth to try and take with you.
Best time to visit Ranikhet
Throughout the year as it has a cool climate, but from February to November, heavy snowfall happens which makes it more pleasant for snow lovers.
Summers: (March-May) temperature lies between 8 degree Celsius to 22 degree Celsius are the perfect time to explore the city for all kind of nature lovers. Couples can go for the honeymoon during this time to feel the pleasing weather.
Winters: (October-February) with the temperature of 3 degree Celsius to 7 degree Celsius. Snowfall starts during the months of December, January, and February. Newly married can plan their honeymoon during this time.
Monsoons: (June-August) Due to average rainfall, the beauty of the place automatically gets enhanced with the water-droplets all over the plantation.
How to reach Ranikhet
Airways:The nearest airport is Pantnagar Airport at the distance of 119km, well connected from various cities and towns.
Railways: At the distance of 80kms from Ranikhet, Kothgodam in the nearest railway station and is well connected from all major cities and towns.
Roadways: Road services are well connected from nearby cities via buses or personal vehicles.
Map of Ranikhet