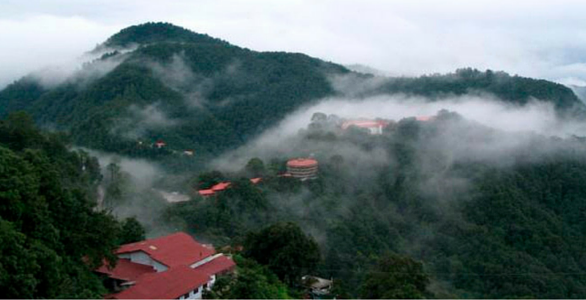 Mussoorie: Queen of Hill's
Mussoorie is the most enchanting hill station in north India which attracts thousands of visitors annually from every remote corner of the world. The hill station is rightly regarded as the "Queen of Hills" and is blessed with ultra lush greenery and diverse flora and fauna.
About Mussories :
Mussoorie is a famous  "hill station" in India. It is located about 35 km from "Dehradun" and 290 km From New Delhi. This hill station, situated in the foothills of the "Garhwal" Himalayan range. "Mussoorie" average altitude is 1,880 meters (6,170 ft), "Mussoorie" is famous for its green hills and varied flora and fauna. The second highest point is the original "Lal Tibba in Landour", with a height of over 2,275 meters (7,464 ft)
Garhwali , Hindi, English

Best Time to Visit Mussoorie

Summer Season – Mid April to July,

Monsoon Season – September to November

Winter Season- End December to Mid Feb 

Places to visit in mussoorie

The Christ Church, Camel's Back Road, Lal Tibba,Mall Road, Landour Bazaar, Kempty Falls, Jharipani falls, Mussoorie Lake, Bhatta Falls

Dhanolti, Dehradun, Rishikesh, Haridwar
Best "Places to visit in Mussoorie" :
Some of the notable reasons for visiting Mussoorie are as mentioned below:
Gun Hill
The popular tourist attraction and it is said that a gun was fired from its pinnacle to indicate the time.
Kempty Fall
This is the most enchanting venue which is located at the distance of 15 KMs from Mussoorie and is a major drawcard for thrill-seeking visitors
Lal Tibba (Depot Hill)
Lal Tibba meaning in local language is Red Hill. it is the highest point in "Mussoorie".
Lal Tibba also referred as a Depot Hill. it is situated in the Landour area at an altitude of 8000 meters above the sea level. Lal Tibba is the oldest populated place in Mussoorie.
It is famous for the beautiful view of sunrise and sunset and it is the best place to get a view of the snow-covered mountains such as Kedarnath, Banderpunch, Badrinath and other Himalayan ranges.
Camel Back Point
Camel's Back Road The road borrows its name from a large rock here that looks like a camel's back. Camel Back Road is located at the center of "Mussoorie" city. it is the perfect way to walk with nature.
3 kilometers long stretch laid down in the vicinity of Mussoorie
Mussoorie Lake
This lake is 6 km from "Mussoorie". It is Developed by the city board and the Mussoorie Dehradun Development Authority, this is a famous picnic spot and famous for its pedal-boating facilities.

Jharipani Falls and Bhatta Falls
The Jharipani and the Bhatta Falls are two major waterfalls of "Mussoorie". Jharipani Fall is located 8.5 m from Mussoorie
Jwalaji Temple
Jwala Ji is famous Hindu temple which is located at a distance of 9 km from "Mussoorie". Dedicated to Goddess 'Durga',
Dhanaulti
"Dhanaulti", famous for its beautiful surrounding and adventure sports it is 24 km from "Mussoorie". It is situated at an altitude of 2286m,
Resorts and "Hotels in Mussoorie"
The location of Mussorie remains equipped with the needed infrastructure and sprawling hospitality industry in a bid to cater to tourism requirements. A range of plush hotels and resorts are present to accommodate the thrill-seeking guests. Besides, scores of economy hotels also decorate the hilly landscape at length, for those with a limited budget.
Ideal Months For Mussorie Visits:
From "April to June" and from "September to November" is Ideal "Temperature in Mussoorie".
How To Reach Mussoorie :
By Bus
The "Mussoorie" paradise can be reached either by rail, by road. Dehradun is the focal point for all such ways and buses are organized from Delhi, Haridwar, and Shimla at a regular basis.Besides, the private tour operators and UP roadways conduct regular bus service as well.
"Dehradun to Mussoorie" distance is Approx 33.7 Km
By Railways:
As mentioned above, Dehradun is the central stage for Railway routes to Mussorie and the station receives trains bound from Delhi, Mumbai, Kolkata and from every major Indian city.
By Air:
There is located an international airport on the outskirts of Dehradun which is known as "Jolly Grant airport" and from here, "Mussoorie" can be reached through taxis and buses.
Emergency Contact Numbers
Community Hospital. Landour

St. Mary's Hospital, Gunhill Road
Mussoorie Emergency Number

Police Station, Mussoorie

Emergency Service, Mussoorie

Tourist Office, Mussoorie

Garhwal Mandal Vikas Nigam Office, Mussoorie
"Inditrip welcome all your valuable suggestion and comment here, also if you wish to share any topic related to Indian tourism, Join our team and we will publish your content with your name".
                                                                                             Thank you..
 Email : inditrip.in@gmail.com
Tag : Hill station, Mussoorie, Delhi to Mussoorie, Dehradun to Mussoorie, Hotels In Mussoorie, Mussoorie Temprature, Hotel in Mussoorie, Weather in Mussoorie, Mussoorie Weather, Dhanulti, Place to Visit In Mussoori, Mussoorie Hotels