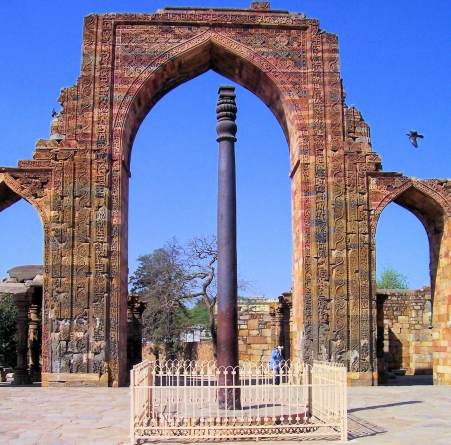 World's mysterious Iron Pillar
World's Oldest Rust Free Iron Pillar…
Ashoka Iron Pillar is one of world's most curious structure, which is located in Delhi, at Qutub complex near the Qutub Minaret. Qutub complex is Listed in  UNESCO world heritage Site. This complex contains several monuments and ruin like Qutub Minar, Ashoka or Iron Pillar, Alai Minar, Quwwat ul Islam Mosque, Ala I Darwaza which are built by Qutub din Ayback .
The Most Part of Iron Pillar is a plain vertical cylinder-like structure. then an inverted bell with flattened pot-like engravings on its top, to crown it all is a platform with Ashoka Chakra Emblem, Nowadays pillar is placed on a  cemented platform with iron fencing.
A rumor spread that if one could stand with one's back to the pillar and make one's hands meet behind it, Wish of hugger will be fulfilled. Then, The Archaeological Department of India bans on hugging the pillar and constructed a steel fence around the pillar in 1997 to guard against Visitor and huggers.
It has been called "A testament to the skill of ancient Indian blacksmiths" because of its high resistance to corrosion.
Facts About Iron Pillar 
| | |
| --- | --- |
| | |
| | |
| | Rust-resistant composition of the metals  |
| The total height of the pillar | |
| | |
| Estimated weight Of Iron Pillar | |
| | |
| | |
| Pillar bulb-shaped base height | |
| Bell pattern capital height | |
 
The Iron pillar carries a number of inscriptions and graffiti of different dates which have not been studied systematically despite the pillar's prominent location and easy access.
The oldest inscription on the pillar is in Sanskrit, written in Gupta-period Brahmi script.
This states that the pillar was erected as a standard in honor of Vishnu.
It also praises the valor and qualities of a king referred to simply as Candra, now generally identified with the Gupta King Chandragupta II. Some authors attempted to identify Candra with Chandragupta Maurya and yet others have claimed the pillar dates as early as 912 BCE.
 When To Visit
The Famous places Near Iron Pillar are:
Qutub Minar
India Gate
Agrasen ki baoli
"Inditrip welcome all your valuable suggestion and comment here, also if you wish to share any topic related to Indian tourism, Join our team and we will publish your content with your name".