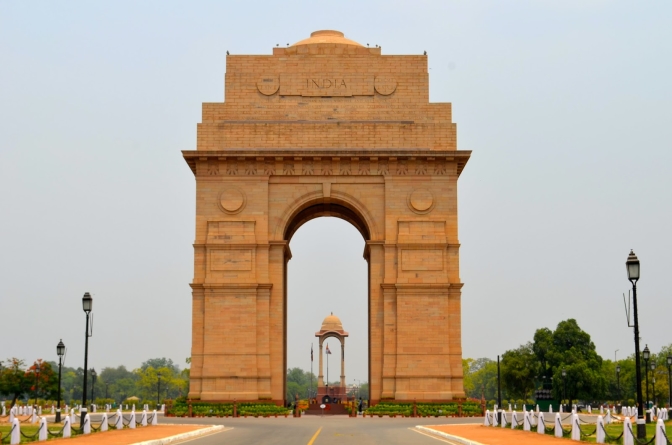 The India Gate : The biggest war memorials of India.
India Gate
India Gate Delhi,India
India Gate is a famous historical monument. It is situated in the heart of Delhi. India Gate  is a major tourist attraction in Delhi. It is one of the most famous picnic spot in Delhi. The India gate illuminated every evening with color full floodlit. India Gate is surrounded by lush green lawns and water bodies. India Gate stands at one end of Rajpath.
About India Gate:
"The India Gate" is a War Memorial.
India Gate is one of the biggest memorials of war in India.
Foundation of India Gate was conducted by "Duke of Connaught" on 10th February 1921.
It took approximately 10 years to complete the construction work.
The India Gate was unveiled in 1931.
It was designed by "Sir Edwin Lutyens".
"Sir Edwin Lutyens" was the chief architect of Delhi in those times.
The India Gate design is inspired by "Arc de Triomphe" of Paris.
Night View of  The India Gate, Delhi (India)
India Gate is  42-meter tall.
It stands on a low base of red Bharatpur stone and rises in stages to a huge molding.
Its diameter is about 625 metres, covers approximately 306,000m² in area.
India Gate design is Free From religious and culturally specific iconography (like Cross, Moon, Om etc)
 Republic Day Parade 
on 26th January
It took approximately 10 years for India gate to finish its construction.
It is made of sandstone and Granite.
Before the independence, there were some British statues in front of the India gate. After the independence, they were moved to Coronation Park.
India Gate is a memorial to 82,000 soldiers of the undivided Indian Army.
The walls of India Gate have been inscribed with the names of the Indian soldiers who died in World War I and the Afghan Wars.
India Gate serves as the venue of the Republic Day parade, which takes place on 26th January every year.
Amar Jawan Jyoti
Amar Jawan Jyoti Delhi
Amar Jawan Jyoti is located beside The India Gate.
Amar Jawan Jyoti was ignited by Prime Minister, Mrs. Indira Gandhi on 26th January 1972.
Amar Jawan Jyoti flame burns day and night, to remind  Indian soldiers who died in the Indo-Pakistan War of  December 1971.
The shrine is made of black marble cenotaph with a rifle placed on its barrel, crested by a soldier's helmet.
It is customary for the President and the Prime Minister and visiting Guests of State, to pay homage at "Amar Jawan Jyoti", on occasions of State ceremonies.
How & When to reach "The India Gate"
| | |
| --- | --- |
| | |
| | Pragati Maidan and Kendriya Terminal |
| | New Delhi Railway Station |
| Nearest International Airport  | Indira Gandhi International Airport |
| | |
| | |
| | every day, throughout the day |
| | |
| | |
The Famous places Near Jantar Mantar are:
Rashtrapati Bhavan
Gurdwara Bangla Sahib
Humayun Tomb
"Inditrip welcome all your valuable suggestion and comment here, also if you wish to share any topic related to Indian tourism, Join our team and we will publish your content with your name".
   Email: inditrip.in@gmail.com
                                                                          Thank you..