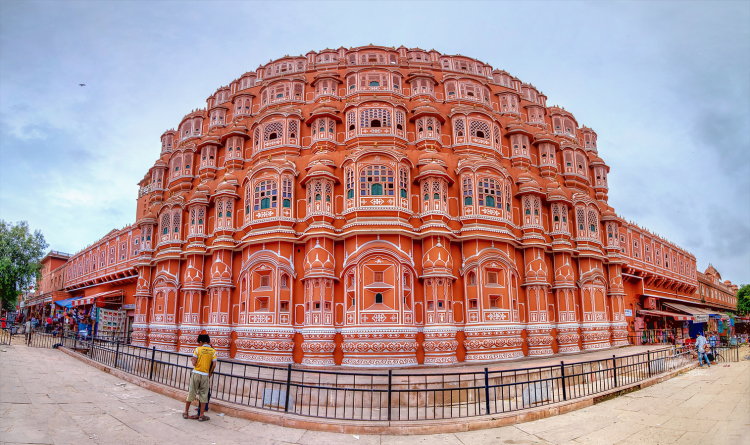 Interesting Facts About "Hawa Mahal" Rajasthan..
Hawa Mahal (Palace of Wind)
About
Royal heritage of Rajputs designed by an Islamic Ustad, "Hawa Mahal" situated at Badi Choupad in the Pink city of Jaipur, signifies an amazing mix of architecture and culture. No place inside this vintage building is rid of wind. The beautifully built Hawa Mahal allows fresh breezes from day to night making it a must visit tourist place in Jaipur.
History 
Hawa Mahal was constructed in 1799 by Sawai Pratap Singh.
Job of its construction was given to Lal Chand Ustad.
It was built as the continuation of The Royal City Palace.
Hawa Mahal looks like a crown of Lord Krishna, which is significant to the devotion of Sawai Pratap Singh in Lord Krishna.
It is believed that it was built so that the Royal ladies could enjoy the street functions and festivals without being revealed to the audience, without any disagreement to their Purdah System.
Interesting Facts about Hawa Mahal.
Hawa Mahal is one of the most famous ancient monuments of "Rajasthan".
It is located in Jaipur city, capital of the Rajasthan.
"Maharaja Sawai Pratap Singh" built the "Hawa Mahal Palace" in the year 1799.
Hawa Mahal is also known as "Palace of Winds".
The Hawa Mahal consists of five floors.
Hawa Mahal has about 953 windows which keep the palace cool.
All the Jaipur royals utilized this building as their summer retreat.
The building was specially erected for the royal ladies of Jaipur.
The meaningful purpose of this building was to allow Royal ladies watch the street festivals.
It is a unique building which consists of Mughal and Rajput architectural styles.
The palace is also constructed of pink and red colored stone.
Hawa Mahal is the tallest building without any foundation in the world.
Hawa Mahal has 5 floors and it is still standing upright because it is curved and leaning at an angle of 87 degrees.
It is a five-story pyramidal shaped monument that rises 50 feet (15 m) from its high base
Hawa Mahal is built in the shape of the"Lord Krishna's crown".
The jaali work in the windows of "Hawa Mahal" is similar to the honeycomb of a beehive.
There is no front entrance to the Hawa Mahal. If you want to get in, you have to enter from the rear side.
The Hawa Mahal has only ramps, instead of regular stairs to reach the upper floors of the building.
In the present day, the "Hawa Mahal" has become a famous tourist spot and one of the spectacular sights in Jaipur
The palace has become a famous spot for the shooting of several Indian and international films.
Architecture
Famous for its Architectural facts "Hawa Mahal"  was designed like a beehive.
It stands upright without any foundation which makes one feel the rich heritage of Rajputs, with 953 "Jharokas." having small peeping holes.
It is a five-story palace with a height of about 50 ft.
Made up of Pink and Red sandstone.
There are no steps to go up floors, but ramps.
The first floor has Sharad Mandir for the autumn celebrations.
The second floor of Hawa Mahal locates Ratan Mandir, which again is decorated with colorful cultural glassworks
The other 3 stories constitute Vichitra Mandir, Prakash Mandir, and Hawa Mandir.
Built such that you get the best views of the pink city Jaipur.
Famous places near Hawa Mahal.
"Inditrip welcome all your valuable suggestion and comment here, also if you wish to share any topic related to Indian tourism, Join our team and we will publish your content with your name".
                                                                         Thank you..  
 Email: inditrip.in@gmail.com