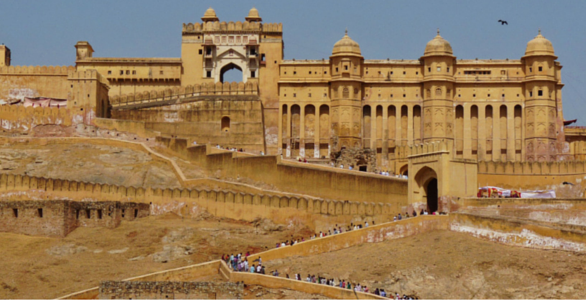 The Amer Fort Jaipur, Rajasthan
Amer Fort Jaipur, Rajasthan.
Amer Fort is 11 kilometers from Jaipur.
Amer was the capital of the state before Jaipur.
Amer fort was built in 1592 by "Raja Man Singh".
This fort is very popular as "Amer Palace".
The Amer Fort was built in red sandstone and marble.
The "Maota Lake" also adds charm to the entire Fort.
History Of The  Amer Fort
Amer was once known as "Dhundar". It was ruled by the "Kachhwahas" from the 11th to the 16th century, Raja Man Singh built this fort in 1592 AD later "Raja Jai Sigh I" expanded and renovated Amer fort.
The architecture of Amer Fort
The Fort has four different parts, each part has a separate entrance.
The main entrance to the fort is through the 'Suraj Pol' or 'Sun Gate' which opens up into the main courtyard.
Suraj Pol

is east-facing gate it is the main entrance to the palace.

The '

Jaleb Chowk

' is one of the four courtyards of the Amer Palace.

The '

Sila Devi

' Temple is right at the entrance to the main palace grounds.

The second courtyard is famous for its '

Diwan-i-Aam

'

The 'Sheesh Mahal' and the 'Sukh Mahal'is an attraction for tourist.
A very famous attraction here is the 'Magic Flower', a fresco carved out of marble.

The Amer Fort has influences of both Hindu and Muslim architecture.
Hotel Near Amer Fort
1. KK Royal Days
2. Trident hotel
3. The Gold Palace & Resorts
4. Hotel Malak Mahal Palace
5. Holiday Inn Jaipur
6. Hotel Glitz
7. Mahar Haveli Bed & Breakfast
8. Hotel Royal Sheraton
Nearby Tourist Attractions
Jaigarh Fort
Aravalli Hills
Vijay Garh
Jal Mahal
Nahargarh Fort
Source:  Wikipedia
http://www.amberfort.org
"Inditrip welcome all your valuable suggestion and comment here, also if you wish to share any topic related to Indian tourism, Join our team and we will publish your content with your name"