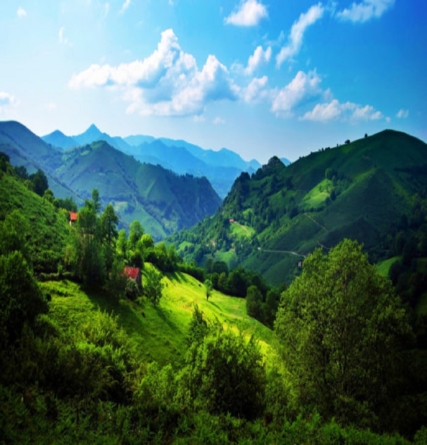 Top 2 hill stations in Madhya Pradesh
Pachmarhi
Madhya Pradesh is a home to this calm and peaceful hill station, which attains a height of 1067 meters.
It is a large plateau, surrounded by Satpura range.
The landscape view constitutes rugged hills, ravines and forests.
It is also known as the gem of hills.
One of its primary attractions is the mind blowing view it offers at sunset, when the red sandstone scarp goes up against the shade of the sky, in different shades of purple and violet, as the glorifying sunsets.
In spite of the fact that it is considered as a hill station, it doesn't offer the vast mountain passage of wonderful statures and staggered landscape, for the Satpuras are low laying weathered slopes.
Pachmarhi' s bid is calm and so peace, separation and a calm subtle magnificence are its prime attractions.
Covered in lavish greenery, Pachmarhi also stands out amongst the most famous tourist places in Madhya Pradesh.
The state is popular for its rich history, heritage places and thick timberland.
Pachmarhi adds yet another flavor to this Central Indian curry.
It is a perfect tourist destination during summers and monsoons.
Pachmarhi has been perceived as an UNESCO Biosphere Reserve which increases way towards Madhya Pradesh tourism.
Pachmahri is a home to one of the tallest waterfalls in India and those caves of ancient time that were once a home to the Pandavas of the Mahabharata.
Trust me, if a family visit or a vacation trip is in your mind, Pachmarhi is the ideal place for you at that point.
Amarkantak
A day tour to Amarkantak is perfect thing to do.
Tourist usually takes a night stay here. In a year Amarkantak usually witness a lot of tourists.
Amarkantak is a holy destination and thus the major numbers of tourists are Hindu devotees.
Aside from being a devotional place, it is a famous hill station also.
So for the seekers of hilly areas which are also Hindu devotees, it is the best tourist place for them in Central India.
Being source of Holy Narmada river, pilgrims look at this destination with more dedication and regard.
Other than Amarkantak other temples to visit near it are, Kapildhara temple built in Kalchuri time and Narmada Kund, place from where Narmada begins and number of Ashrams.
Saints see this place with incredible devotion and go to this place for meditation and feel the bliss environment.
This place have sorts of factors to make it look a convincing place to for the tourists.
Apart being a holy place of Hindus, this area is surrounded by thick forests that give this place a wilderness effect.
This valley is well known among Botanist for numbers of medicinal plants being found.
When you're done visiting the holy places and temples you can make a way to the tribal villages and get familiar with their culture and rituals.
Villages in this area are of Central India Tribes where we can see the way of life, house structures, think about their career ideas, traditions, ceremonies, social lives and so on.
Amarkantak lies in south-east of Madhya pradesh which has its boundaries shared with Chatiisgarh. Achanakmar Wildlife Sanctuary is another famous place to visit for tourists in Chattisgarh.
Map of Madhya Pradesh