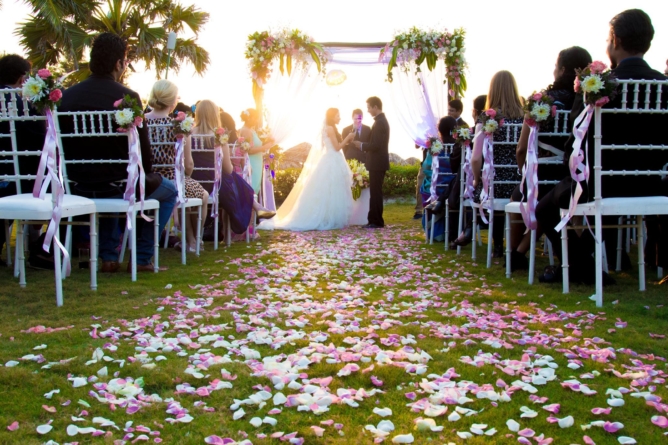 Planning a destination wedding in India? Here are the Top 3 Places to Explore.
Primarily, Portray yourselves in a pleasing and lavish ambiance with blissful friends and family with lots of dance to the beats of dhol.
Yes, its big decision of your life and you're quite excited and planning to make it a memorable one. It's everyone's dream to take wedding vows on a beach, or in the middle of the lake in the royal palace or above in the mountains etc. there's a long list.
Hence, From choosing the perfect theme to selecting a mesmerizing destination the planning includes a lot of tasks to do. There's an unending list.
The major and prime thing to decide the location for a destination wedding. No doubt India a beautiful country numerous magnificent places to opt for your destination wedding. India famous for its vibrant, diverse and rich heritage. Besides, Here each state signifies unique and beautiful in its own way.
Why destination wedding
Destination Wedding perhaps not a new thing in India nowadays most of the people prefer to relish their special celebrations with their friends and family.Moreover,  India a blend of colorful and stunning places that makes special occasion with charm and incredible magnificence. That's the reason for Destination Wedding in demand in India. Hence, if you love beaches or royal palaces, mountain peaks or forts, India is a perfect nation to relish and make your dream wedding ceremony memorable.
Cost of Destination Wedding in India
Therefore, For an economical and hassle-free arrangement, opt for a wedding planner. Commonly a destination wedding ceremony in India budget you approximately above 10 lakhs
The top 3 major places for a Destination Wedding 
Udaipur The city of Lakes
Many couples love to get married amidst the calmness of the lake. For a full-fledged cultural and traditional wedding, the Royal Palace of Udaipur the best place. Enriched in rich heritage and culture, this palace proved to be a perfect place for a wedding function and other celebrations. Imagine your marriage functions are occurring in the middle of a serene lake. Making your wedding a memorable one with lots of traditions to be held with the family and friends, the palace the picturesque location. Imagine your Mehendi and Haldi ceremony going on with customized colorful decorations enclosed by the lake elegance.
The glorious buildings of the royal palaces in Udaipur give a kind of charm, that weddings in Udaipur depict amazing fairy-tale. One of the elite locations for a wedding ceremony by the Jag Mandir Mahal or the Oberoi-Udyavilas delivers a drop of magnificence, richness, and royalty. As one of the best-renowned destinations for weddings in India the palace is also displayed in a movie Yeh Jawani Hai Diwani for Kalki Koechlin's wedding.
The expense of marriage at Udaipur begin from Fifteen lakhs for smaller wedding venues such as Ramada Udaipur and Chunda Palace and can rise up to sixty lakhs for places such as Jagmandir, Taj Lake Palace, Leela Ud, ipur and Oberoi Udaivilas,
Goa Sand, sunsets and Beaches
Goa is the perfect place to host an ideal wedding. Moreover, If you want an open marriage at the beach festival or a grand wedding with a view of the sea, the list is endless and the choice is yours. Basically,  Zeebop, Cidade to Alila Diwa, there are some excellent places in Goa, which are ideal for hosting a destination wedding.
Goa probably the most traded and most popular destination in India because it offers a variety of weddings or ceremonies to be held in the beaches of the beaches and to organize the cool formal rituals of the old churches. Hence, one of the most unique choices for a wedding because it is like a tropical delight that can involve everyone in their eagerness and aroma.
Kerala Backwaters
One of the relished destinations for planning a destination wedding in India. The mesmerizing beaches to magnificent dense forests and picturesque landscapes, there's a lot to explore in the state. Moreover, Munnar the city of beautiful tea gardens among the best places of Kerala for a destination wedding on above the clouds. Hence, Turning your dreams into reality one can relish their wedding at the calm backwaters of Kerala. Primarily, this pleasing destination for those who have one of those quiet and picturesque events instead of choosing for a large and jam-packed event. Backwaters are peaceful, pleasing and keep a sight that may be settled in someone's eyes forever. Thus,  the picture-perfect retreat for a destination wedding ceremony in India.  Visualize the beaches covered with coconut palm trees, backwater and lovely houseboats.  While you are taking your wedding vows amidst them.
Be it any place, it's a lifetime memory make it glorious, eventful and Grand.