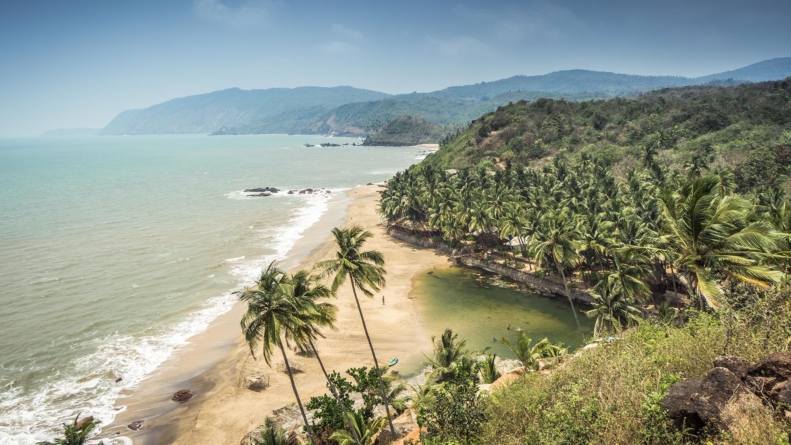 Its all about Sun, Sand and, Seafood
Tucked into south-west coast of India, Goa is a perfect combination of history, Portuguese culture and a vibe that gets you excited from the second you arrive. The Goan life is all about inner party animal and the peaceful soul that can be discovered in the stunning beaches and even more splendid tourist places. Come as a party crazy student or honeymooning couple or even just as a traveler who is looking for an adventure, this place never disappoints any tourist that touches its shore.
Sun-soaked state where east meets west, India's most-cherished shoreline goal, this place has significantly more than ocean, sand, fish and, obviously, the Sun, to hold one returning for additional. Goa's unmistakable Portuguese legacy, normal excellence, humming nightlife, and an exceptionally fascinating culinary scene makes for a powerful blend, one that you can't help it. Visited all around the year, it sees an unfaltering footfall of vacationers from everywhere throughout the world.
Goa, a little emerald arrive on the west bank of India, the 25th condition of the Union conditions of India, was freed from Portuguese administer in 1961. It was a piece of Union Territory of Goa, Daman, and Diu till 30th May 1987 when it was cut out of frame a different state. Goa covers a territory of 3702 square kilometers and includes two Revenue locale viz North Goa and South Goa. Limits of Goa State are characterized in the North Terekhol stream which isolates it from Maharashtra, in the East and South by Karnataka State and West by the Arabian Sea. It lies in Western Coast of India and is 594 Kms (by street) far from Mumbai city. Panaji is the state's capital, while Vasco da Gama is its biggest city.
Places to Explore
Chapora Fort
10kms away from Mapusa, this Portuguese Bastion is surrounded by the majestic history of various rulers and its claim to fame came after the movie 'Dil Chahta Hai', which gained cult status. Hence, the spectacular view of the beaches and the Chapora River is worth the climb.
Basilica de Bom Jesus
This UNESCO World Heritage site is one of the oldest churches in Goa and is a beautiful landmark of Christian history. Located in Old Goa, houses the remains of St. Francis Xavier who is said to have a miraculous healing power.
Fort Aguada
4kms away from the Sinquerim Beach, it is the best preserved and the largest Bastion and is now a converted prison.  Overlooking the Mandovi River, this Portuguese built Bastion is the perfect spot to watch the sunrise from.
Agonda beach
One of the most scenic ones in Asia, this clean and serene beach is perfect to get a tan, or meditate or even catch up on reading. Moreover, if the solitude isn't your thing, the dolphin spotting and country boating are sure to get you excited.
Baga Beach
One of the best beaches, known for its beach parties, stunning nightlife and perfect atmosphere of excitement fueled by a happy crowd and shacks serving local drinks and seafood.
Dudhsagar Falls
60 kms from Panaji, this 4 tiered waterfall with its height of 1017 ft is one of India's tallest waterfalls. Indeed rich in biodiversity of the Bhagwan Mahaveer Sanctuary and Mollem National Park, surrounding it makes it a breathtaking site.
Mangueshi Temple
21 kms from Panaji, the main deity here is an incarnation at Shiva housed in a 450-year-old complex which draws tourists because of its exquisite elegant architecture and stunning 7 story lamp tower thus the temple also hosts various festivals like Diwali, Rama Navami and so much more.
Anjuna beach
Situated in North Goa, with its killer combination of swaying palm trees, trance music culture and rave parties are known to go on all night, Anjuna beach is one of the most popular beaches in Goa and is said to put every tourist in a happy go lucky mood.
Molem Wildlife sanctuary
Located in the Sanguem area, this sanctuary is the core zone of the largest wildlife sanctuary in Goa; Bhagwan Mahaveer Sanctuary. With 120 bird species including Fairy-bluebird, Golden Oriole, Wagtails etc. along with Bengal tiger, Leopard, Wild boar, Barking deer etc. as the fauna, the jungle safari here is a must try for adventurous wildlife lovers.
Mahaveer Wildlife Sanctuary
Bhagwan Mahaveer Sanctuary, in Sanguem, is a 240sq.km area with rich flora; unspoiled vegetation and fauna consisting of a plethora of animals and birds along with perennial water streams.
Things to do in Goa
The azure water and golden sands of the beaches in Goa are to die for combined with adventure activities like jet skiing, Dolphin trip, parasailing, windsurfing and so much more in south Goa.  Salim Ali Bird Sanctuary and Bhagwan Mahavir Wildlife Sanctuary are 2 famous wildlife parks here that are sure to take you on a forest adventure. Rent a 2 wheeler and explore the old beautiful churches, historical forts and other tourist places in Goa, in the day before letting your hair down and partying the night away in what seems to be a club at every turn.
Weather in Goa
As the matter of fact, Goa weather is generally hot and humid all year long with May being the hottest month, monsoon going on from June to September and pleasant cool weather from December to February.
Best Time To Visit Goa
The period from November to February is the peak season because of the pleasantly cool weather and the extensive celebration of New Year and Christmas and the Sunburn music festival in December and hence makes accommodation bookings very expensive.
Likewise, from March to May, with the weather being humid and hot, the prices of accommodation become more reasonable as the number of tourists is seen to reduce tremendously.
Particularly the period from June to October, sees the monsoon making this place look luscious and green along with low accommodation prices.
Hence, It is best to avoid the peak tourists season from October to January as most hotels in Goa are expensive. The July to September period, with its beautiful rains and parties to welcome the monsoon along with great discounts for beach resorts in Goa make it the perfect time for a Goa trip.
Where To Stay
From backpacker hideaways to 5-star hotels in Goa to eco-lodges and hostels to top-end resorts, this place caters to all budgets and tastes. Therefore, resorts like Cidade de Goa and Ramada Caravela are favored by foreigners and vacationers for its 5star facilities whereas cheap hotels in Goa and hostels are favored by students/backpackers because of its basic facilities and affordable price. However, Middle-class families and honeymooners usually prefer 3-star hotels and resorts with good facilities. Eco-lodges and independent sea facing cottages are favored by cosmopolitan couples or businessman, to get away from the hustle and bustle of life.
Festivals of Goa
The celebration here is a colorful, lively kaleidoscope of festivals and is the main part of Goa tourism.
The Goa carnival, held in February, is a 3 day 18th-century Portuguese festival filled with colorful dance and music parades, merrymaking, and feasting before the 40 days of Lent.
The Shigmo festival is another traditional Hindu festival celebrated in March/February with mythology depicting floats and vibrant folk dances.
Speaking about the Sunburn festival and the Supersonic festival, held in December are known all over to be a celebration of EDM music and their national and International artists along with food and shopping and so much more which goes on for 3 and 5 days respectively is where the inner party animal comes alive for so many.
However, Christmas and New Year time is the best time to be in Goa because of all the churches and houses being decked up in festive decoration and sparking lights, partying, mesmerizing merrymaking and food that is a party in your mouth.
Cuisine 
This place is the perfect potpourri of traditional meat, vegetarian and seafood dishes along with fusion ones brought in by the foreign immigrants.
Feni, a popular Goan spirit made from the distillation of cashew fruits is sold at every little shack to big restaurants in Goa, is not only great for health but also lets you have a 'no hangover' fun.
Britto's known for its scrumptious, fresh seafood platter and Vindaloo, Zeebop is known for its juicy chicken steaks and Bebinca and crème caramel (Goan desserts), Noronha's Corner, a food truck in Anjuna is known for its Goan fast food like chicken caf real, spicy Goan sausage burger, fish cutlets and so much more.
If we talk about For the vegetarians, Blue Planet Café famous for its delicious pan-fried tofu, crispy flaxseed noodles, Bean me up for its Zucchini Spaghetti Pasta and Bhojan in Panaji famous for its traditional Goan thali is a must try.
Shopping in Goa
Take back the flavor of Goa from the Mapusa Market with its collection of local spices, homemade sausages and pickles, traditional pottery, handicrafts, antiques and even textiles that will leave you spoilt for choice.
Get your dose of the Goa fever at Anjuna Flea market every Wednesday, in North Goa while bargaining for flamboyant beachwear, footwear, junk jewelry, and chunky accessories along with souvenirs and clothes that have the Goa vibe all over them.
Speaking about Calangute Market square and Saturdays at the Night Bazaar at Arpora and be in shopping paradise with trinkets and sarongs made of seashells, hammocks, carpets, leather, metal and clay items that are sure to remind you of the beaches even after you get home.
How to reach
Goa is well connected to all major cities like Chennai, Delhi  Cochin, Mumbai, Bangalore, and Hyderabad by daily flights and by road/railway.
By Air
The Dabolim/Goa Airport has located 29kms away from Panjim; the state's capital has daily flights to and from all the major cities in India
 By Road
Basically, distance from Delhi to Goa is 1878kms, from Mumbai to Goa is 587kms and from Bangalore to Goa is 556kms and a lot of Goa tour packages offer private and public bus operators named Neeta, Paulo, and Naik tours and travels, KSRTC, KTC, and MSRTC.
 By Train
Particularly the two major railheads are Madgaon and Thivim in goa, which are both well connected by trains from all over the country.
Map Of Goa