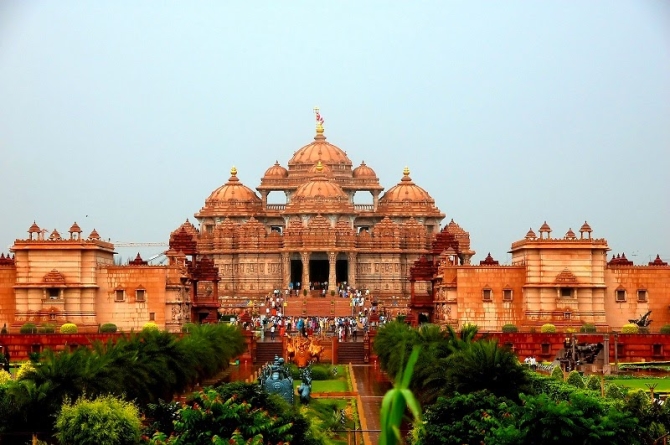 Akshardham : World's Largest Comprehensive Hindu Temple.
Akshardham: Delhi
Akshardham Temple Delhi, India
Akshardham is a Hindu temple complex in Delhi.
The complex displays millennial of traditional Hindu and Indian culture, spirituality, and architecture.
The building was developed by 'Pramukh Swami Maharaj'.
Akshardham Temple Night View
The temple, which attracts approximately 70 percent of all tourists who visit Delhi.
Akshardham was officially opened on 6 November 2005.
Akshardham temple has been built within five years.
Akshardham is near the banks of the Yamuna.
Temple built according to the Vastu Shastra and Pancharatra Shastra.
Detailed carvings were done by hand
It is constructed entirely from Rajasthani pink sandstone and Italian Carrara marble.
Seven thousand Stone carvers and three thousand volunteers were put to work for the Akshardham construction.
Akshardham Temple Interior View
Temple consists of 234 ornately carved pillars and nine domes.
Temple has 20,000 murtis and statues of Hinduism'ssadhus, devotees, and acharyas.
The main monument, which is in the center of temple is 141-foot (43 m) high, 316-foot (96 m) wide, and 356-foot (109 m) long,
It is covered top to bottom with carved design of flora, fauna, dancers, musicians, and deities.
Akshardham open on 6 November 2005.
Akshardham Temple Arial View
Akshardham opening ceremony dedicated to the nation by the President of India, Dr. A.P.J. Abdul Kalam
Akshardham is the World's Largest Comprehensive Hindu Temple.(awarded by Guinness world record )
It measures 356 ft (109 m). long, 316 ft (96 m). wide and 141 ft (43 m). high, covering an area of 86,342 sq ft (8,021.4 m2).
The grand, ancient-style, ornately hand-carved stone temple has been built without structural steel.
Akshardham construction completed within five years by 11,000 artisans and volunteers.
Akshardham Temple Location Map
Timing to visit Akshardham

Complex

First Entry 9.30 am, Last Entry 6.30 pm

Exhibitions

10.30 am to 6.00 pm

Water Show "Sahaj Anand"

6.00 pm. Please note that timings will change as per season, depending on Sunset timings. There may be a second show on Saturdays, Sundays and other holidays.

The entire Swaminarayan Akshardham Complex is closed on Mondays

Night Lighting:

Every Night

Restaurant 'Premvati':

11:00 am to 8:00 pm

Souvenir Shop:

11:00 am to 8:00 pm

Time needed to view Akshardham:

Main Mandir and Gardens:

One and a half hours

Hall of Values, "Boat Ride", and Theatre:

Approx. 3 hours.
Akshardham Temple Day View
Entry Fee:
Entry into the "Swaminarayan Akshardham" Complex is Free.
Entry to the Mandir and Gardens is Free.
Tickets: To view the Exhibitions

Audio-Animatronics Shows (1 hour)

India's Glorious Heritage (15 minutes)

Giant Screen Film (40 minutes)

Children (4 years old to 12 years old)

Children below 4 years old are free

Senior Citizens (60 years and above)

School Groups:

Note: School and College Group concession are available from 9:30 am to 2:00 pm on weekdays only. The concession is not available on Saturday, Sundays or public holidays. Only recognized schools are eligible for concessions.

Group of 50 School children or more

Teachers accompanying School children

1 teacher with every 25 students goes free

Group of 20 College students or more

Per student (ID required)

Water Show "Sahaj Anand":
 Parking Facilities in Akshardham Temple
| | |
| --- | --- |
| Two Wheelers | Rs. 10 |
| Car & Three Wheelers | Rs. 30 |
| Mini Bus & Vans | Rs. 60 |
| Bus & Coaches | Rs. 125 |
 Facilities in Akshardham Temple
Cloakroom
Visitors Center
Wheelchairs
Telephone Booths
Lost and Found Department
 Strictly Prohibited in Akshardham Temple
Smoking and Alcohol
Smoking, tobacco, alcohol, and drugs are not allowed in the complex
Mobile Phones, Cameras
Visitors are not allowed to carry Cameras, video cameras, mobile phones or any electronic items inside the Akshardham temple complex.
 Food
Visitors are not allowed to carry food inside the premises. Vegetarian food and snacks are available at Premvati Food Court in Akshardham temple complex.
 Behavior
Avoid impolite and rude language.
 Pets
Pets are not allowed in the complex.
 Clothing
Visitors are requested to wear respectable clothes to respect the dignity of the place.
 "Inditrip welcome all your valuable suggestion and comment here, also if you wish to share any topic related to Indian tourism, Join our team and we will publish your content with your name".
Email: inditrip.in@gmail.com
                                                                     Thank you..   
Tag: Akshardham temple complex, Akshardham temple, Akshardham temple Delhi, Akshardham temple location,  Akshardham temple Tour, Akshardham temple visit, Facility in Akshardham temple, Akshardham temple entry Free, Timing to visit Akshardham, Best Timing to visit Akshardham,  Hindu temple complex in Delhi, Temple in Delhi, tourist place in delhi, tour to delhi, india trip, Inditrip, Trip to India, best place in delhi to visit, famous place in delhi.